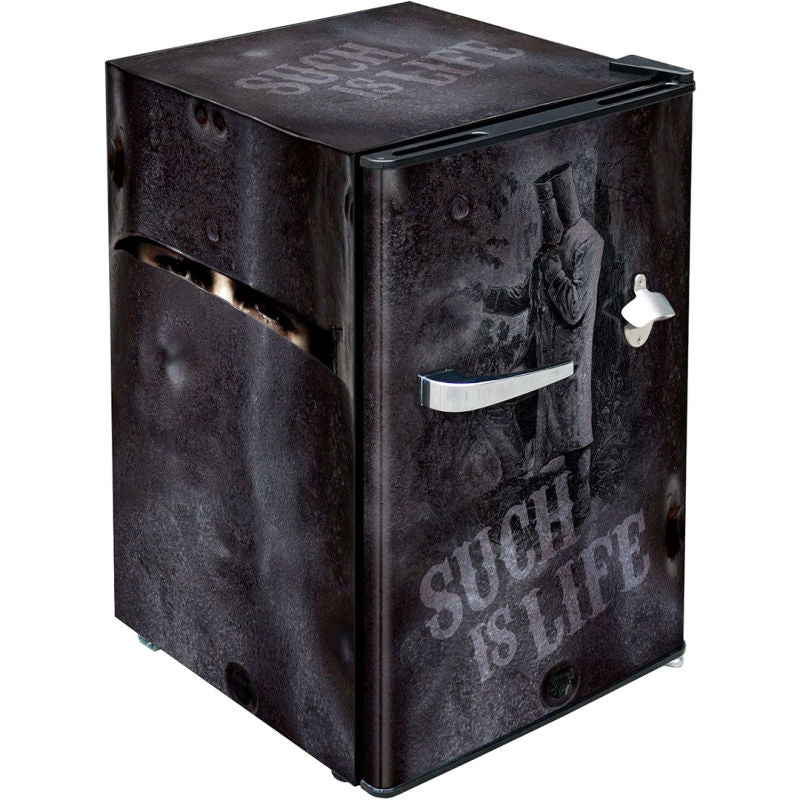 Bar Fridge | 70 Litre Retro Design Gift Ideas
Description

Model Numbers

Why buy From Us

Shipping
Bar Fridge | 70 Litre Retro Designs
Enjoy FREE delivery in NSW, VIC, QLD (Gold Coast to Sunshine Coast), and the Adelaide region.
Discover the epitome of vintage charm with our Retro 70 Litre Bar Fridge, offering a perfect balance of style and functionality. This captivating mini fridge is now available in 8 distinct retro designs, making it a delightful addition to any space.
Cool Vibes and Impeccable Performance
Indulge in the refreshing coolness of your favorite beverages with our tropical-rated, solid-door bar fridge. This efficient cooling marvel ensures your drinks stay at the perfect temperature while running smoothly and quietly, providing an atmosphere of tranquility.
Uniqueness Redefined
Be the envy of your friends with our exclusive range of 8 retro-inspired designs. Personalise your bar fridge and express your individuality – we take care of in-house branding, ensuring speedy delivery to your doorstep.
Technical Excellence Made Easy
Cooling: Revel in icy-cold drinks with the exceptional cooling capacity of this bar fridge.
Location Suitability: Designed for indoor use, this fridge is perfect for your living room, office, man cave or entertainment area.
Power Consumption: Running at an eco-friendly 0.69 kW/24hrs, this fridge keeps your electricity bills in check.
Running Cost: Approximately $64.57 per year (Based on 25.64 cents per kilowatt). Learn more about energy consumption.
Noise Level: As quiet as a computer, running at 39.00dB. Learn more about noise levels.
Peace of Mind with Schmick
Our Retro 70 Litre Bar Fridge is proudly part of our flagship brand, Schmick, reserved for units that boast exceptional design and performance. It comes with the approvals of MEPS, SAA Electrical, and EMC (C-Tick), ensuring top-notch quality and safety.
Main Features for Your Delight
Exciting Info 1: This stylish fridge brings the perfect blend of vintage aesthetics and modern convenience to your space.
Exciting Info 2: With over 35,000 units produced annually, this fridge has proven its reliability and popularity.
Exciting Info 3: Not feeling the retro handle and opener? No problem – we have spare PLAIN doors available!
Energy-Saving and Environment-Friendly
Conscious of energy consumption? Our Retro 70 Litre Bar Fridge is equipped with cyclopentane foaming and LED lighting for optimal energy efficiency. Plus, the R600 gas used is 100% ozone safe, contributing to a greener planet.
Compact and Versatile
With 2 x Large and 1 x Half Shelf, this fridge offers versatile storage for your favorite drinks and snacks. The adjustable feet ensure stability on any surface.
Specifications at a Glance
Capacity: 70 Liters
Fits: Approximately 85 Standard 375ml cans
External Dimensions: 430mm (W) x 475mm (D) x 690mm (H)
Internal Dimensions: 350mm (W) x 300mm (D) x 595mm (H)
For a complete bar fridge guide on maintenance, tips and performance read here
HUS-BC70B-NED
HUS-BC70B-RC
HUS-BC70B-SAFE
HUS-BC70B-BB
HUS-BC70B-EP
HUS-BC70B-ACME
HUS-BC70B-TRAVEL
HUS-BC70B-ROADIE-AUS

Peace of mind 30 day returns policy! Find out more here.
Price match guarantee*. Get more details here.
Review Rewards Program! Check it out here.
We provide customer service, via online chat, email, and phone 7 days a week, 7am to 10 pm. Contact us anytime!
Shipping FREE on a range of items!
For bulky items we have multiple items to reduce shipping costs:
Shipping to door, calculated at the product, cart, and checkout pages.

Collect from local depots we ship to, for reduced costs.

Collect for FREE from warehouse where products are shipped from.
You can find all our delivery/shipping details here.
If you have any questions contact us anytime.