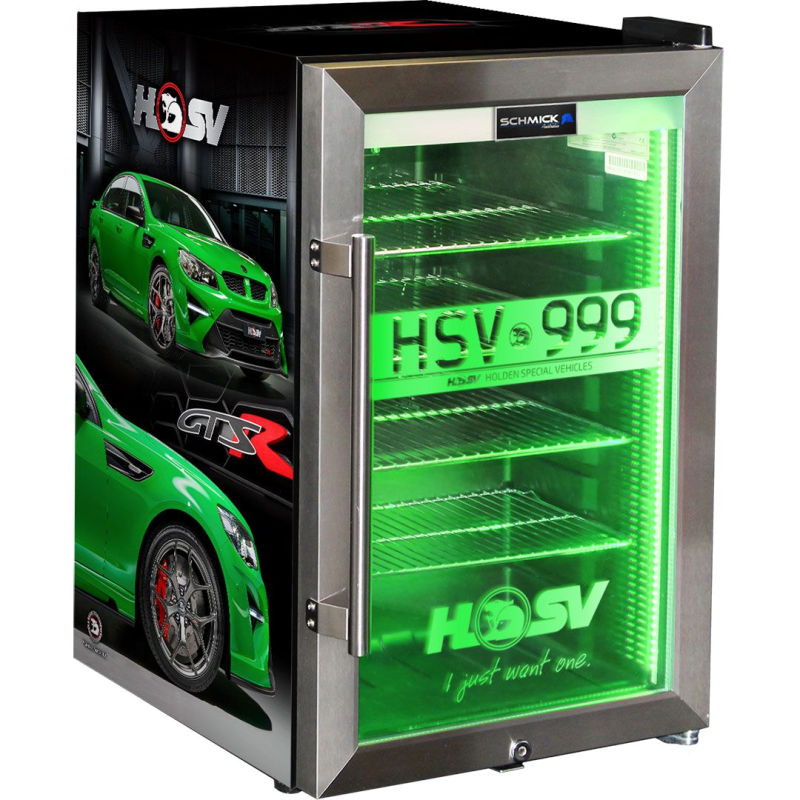 Bar Fridge | 70 Litre Holden Branded
Description

Model Codes

Why buy From Us

Shipping
Bar Fridge | 70 Litre Holden Branded
Introducing HSV Holden Branded Glass Door Bar Fridges - Unleash the Holden Spirit in Style! Whether it's your man cave, shed, rumpus, or theater room, the HSV Holden Branded Glass Door Bar Fridge adds a touch of flair and functionality.
Enjoy FREE delivery in NSW, VIC, QLD (Gold Coast to Sunshine Coast), and the Adelaide region.
Product Snapshot:
Elevate your space with official HSV Holden branded glass door bar fridges featuring a captivating light-up door.
Customise your fridge with your exclusive number plate design at no extra cost!
Choose from three iconic designs: W1, GTSR, and Maloo.
Cooling Excellence:
Triple glazed and tropical rated with LOW E glass, ensuring optimal cooling performance.
Chills to 2°C in ambient temperatures ranging from 10°C to 38°C.
Perfect for indoor or outdoor use in enclosed under-cover areas.
Energy Efficiency and Peace of Mind:
Power consumption of 1.60 kW/24hrs, resulting in approximately $149.74 yearly running cost.
Embrace eco-consciousness with R600 100% ozone-safe gas and energy-saving features.
Equipped with high-quality Chinese compressor, bearing fan, and reliable transformer.
Main Features to Delight:
Self-closing lockable doors - a great feature for convenience and security.
Express your creativity - inquire about custom branding to make it truly yours or a unique gift idea.
Unique inner fan system - ensures even and stable cooling across all beverages.
Flexible molded interior - easily adjust the height for various drink configurations.
Distinctive Design and Appeal:
Triple glazed tempered LOW E glass enhances clarity and prevents condensation.
LED lighting illuminates the interior with energy efficiency.
Sleek stainless steel door with a lock adds a touch of sophistication.
Your Ideal Space Companion:
External dimensions: Width 430mm, Depth 500mm, Height 700mm.
Internal dimensions: Width 360mm, Depth 360mm, Height 595mm.
Capacity: Fits 85 standard 375ml cans or 70 litres of refreshments.
Create a Custom Fridge:
Make it uniquely yours by adding your exclusive number plate design to the door image.
Express your passion for HSV and display your own style.
For a complete bar fridge guide on maintenance, tips and performance read here
HUS-SC70-SS-GTSR

HUS-SC70-SS-GTSR-Maloo

HUS-SC70-SS-GTSR-W1

Peace of mind 30 day returns policy! Find out more here.
Price match guarantee*. Get more details here.
Review Rewards Program! Check it out here.
We provide customer service, via online chat, email, and phone 7 days a week, 7am to 10 pm. Contact us anytime!
Shipping FREE on a range of items!
For bulky items we have multiple items to reduce shipping costs:
Shipping to door, calculated at the product, cart, and checkout pages.

Collect from local depots we ship to, for reduced costs.

Collect for FREE from warehouse where products are shipped from.
You can find all our delivery/shipping details here.
If you have any questions contact us anytime.