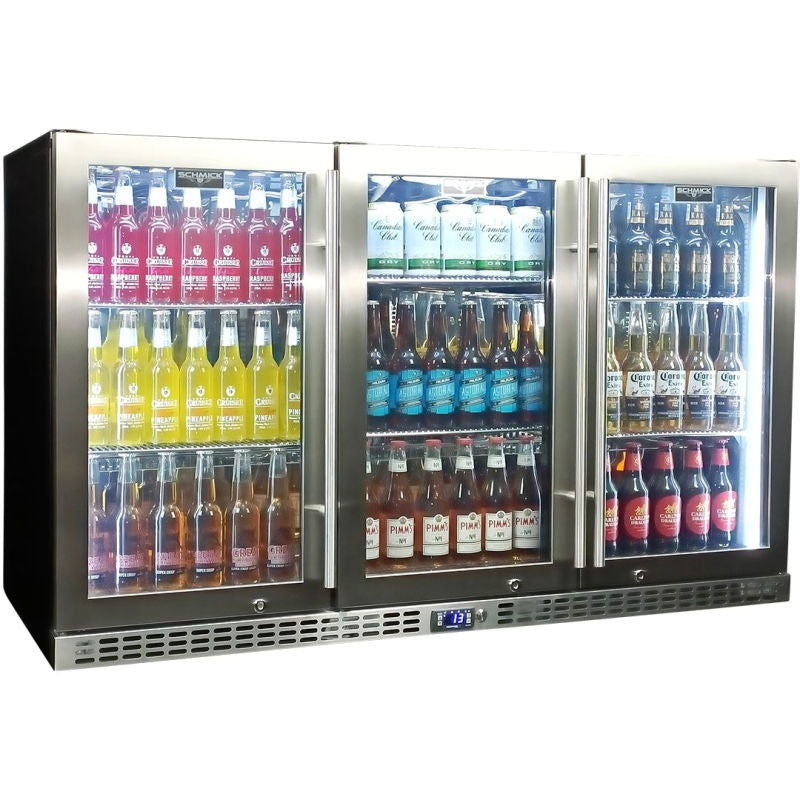 Bar Fridge | 3 Door | Schmick Heated Glass
Description

Model Codes

Why buy From Us

Shipping
Bar Fridge | 3 Door | Schmick Heated Glass
Enjoy FREE delivery in NSW, VIC, QLD (Gold Coast to Sunshine Coast), and the Adelaide region.
Choose between Stainless Steel or Black

Condensation-Free Cooling: Say goodbye to condensation worries with switchable heated glass that ensures crystal-clear visibility in all conditions.

Multi-Functional Lighting: Choose between soothing Blue or White LED lighting to set the perfect ambiance for any occasion.

Flexible Shelving: The 4 HD shelves (400mmW x 420mmD) and 2 Shelves (445mmW x 420mmD) provide versatile storage options, accommodating all your beverage needs.

Exceptional Components: Equipped with a Schmick ECO Controller, Schmick OWL Quiet Inner Fans, EBM German Energy Saving EC Fan, Meanwell Transformer from Taiwan, and High-Quality Jiaxipera Chinese Compressor.

Unrivaled Quality: The Schmick Heated Glass 3 door Bar Fridge showcases exceptional quality and functionality, making it a cornerstone in our acclaimed range.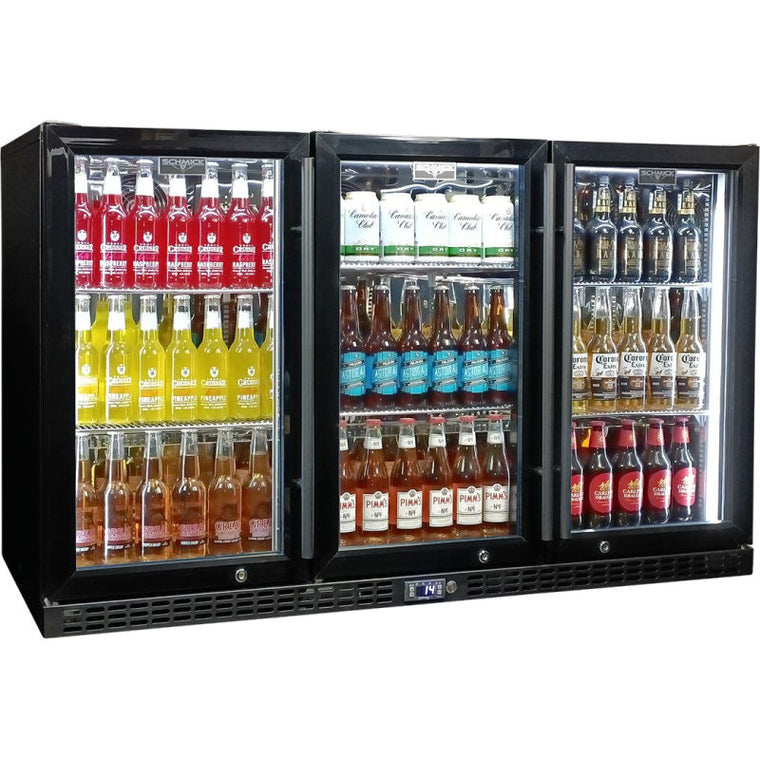 Bar Fridge | 3 Door | Schmick Heated Glass | Product Highlights
Tranquil Operation: Emitting a sound level similar to a kitchen fridge at 43.00dB, this fridge maintains a peaceful environment.

Energy Efficiency Champion: With a power consumption of 2.70 kW/24hrs, this bar fridge is designed to minimize energy costs, resulting in an approximate yearly expense of $252.68 based on 25.64 cents per kilowatt.

Uncompromising Cooling: The Schmick 3 Door Heated Glass Bar Fridge cools effectively even in temperatures as high as 38°C, ensuring your drinks remain perfectly chilled.

Accommodate up to 396 standard 375ml cans or 399 liters of beverages, ensuring ample space for all your favorites.

External Dimensions: Width 1345mm, Depth 590mm, Height 840mm

Internal Dimensions: Width 1265mm, Depth 440mm, Height 690mm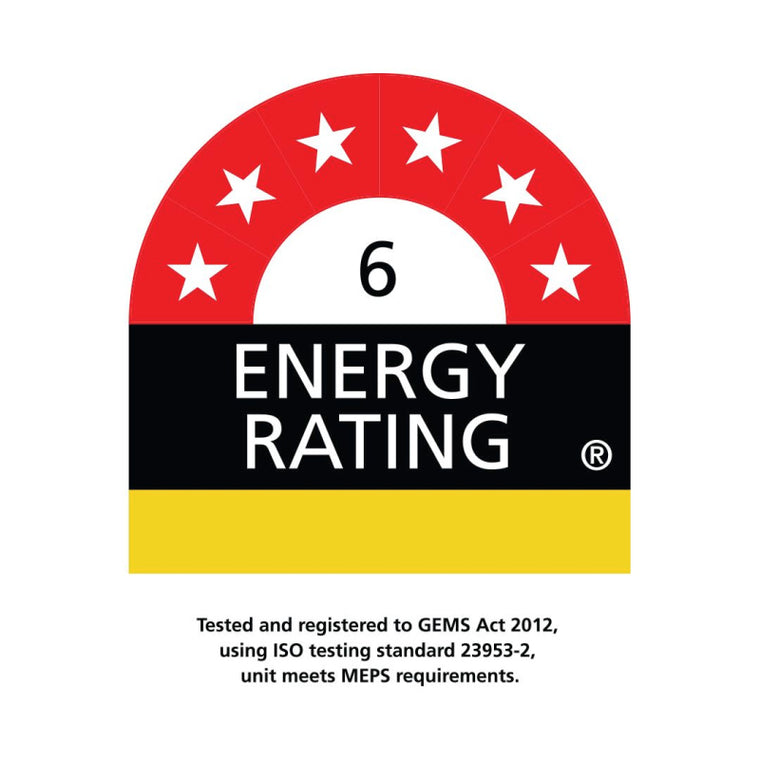 Bar Fridge | 3 Door | Schmick Heated Glass | Specifications
Litres: 399
Weight: 98kg
Dimensions: Width 1345 mm
Depth 590 mm
Height 840 mm
Capacity: 396 cans (375ml)
Noise Level: 43dB Similar to
a kitchen fridge
Shelving: 4 chrome shelves
Body Colour: 304 Stainless Steel
or Black
Interior Finish: Polished 304
Stainless Steel
Adjustable Feet: Yes
Lockable: Yes
Glass Door: Heated Glass
Door Hinge: 2 x Left
1 x Right
Power Consumption: 2.70 kW/24hrs
Running Costs: Approximately
$252 per year
Approvals: GEMS 2022
Meps
SAA Electrical
EMC (C-Tick)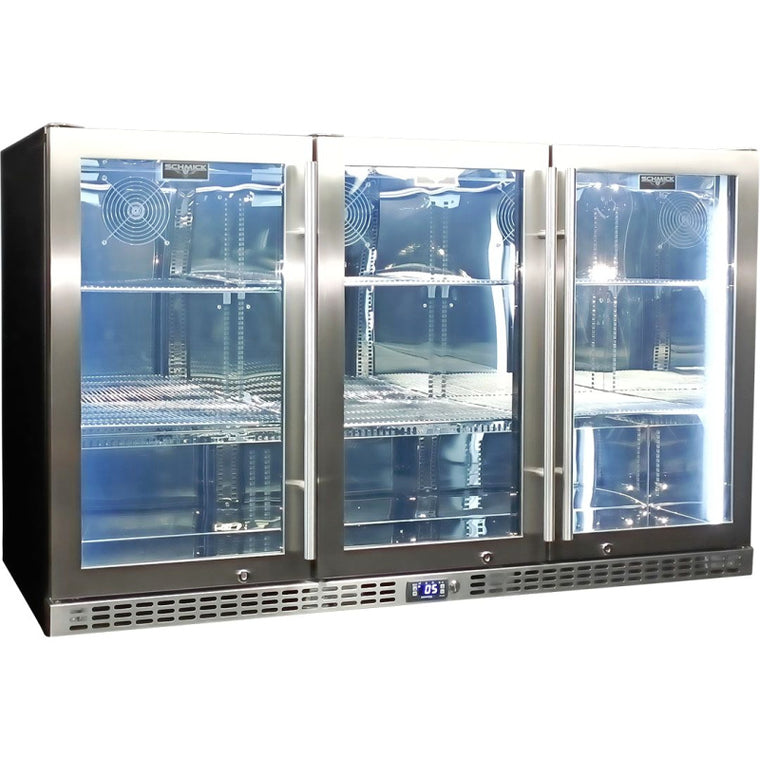 Bar Fridge | 3 Door | Schmick Heated Glass | Complete Guide
Dive deeper into the world of cooling sophistication with the Schmick 3 Door Heated Glass Bar Fridge. Discover maintenance tips, performance insights. Explore the Complete guide here
Peace of mind 30 day returns policy! Find out more here.
Price match guarantee*. Get more details here.
Review Rewards Program! Check it out here.
We provide customer service, via online chat, email, and phone 7 days a week, 7am to 10 pm. Contact us anytime!
Shipping FREE on a range of items!
For bulky items we have multiple items to reduce shipping costs:
Shipping to door, calculated at the product, cart, and checkout pages.

Collect from local depots we ship to, for reduced costs.

Collect for FREE from warehouse where products are shipped from.
You can find all our delivery/shipping details here.
If you have any questions contact us anytime.