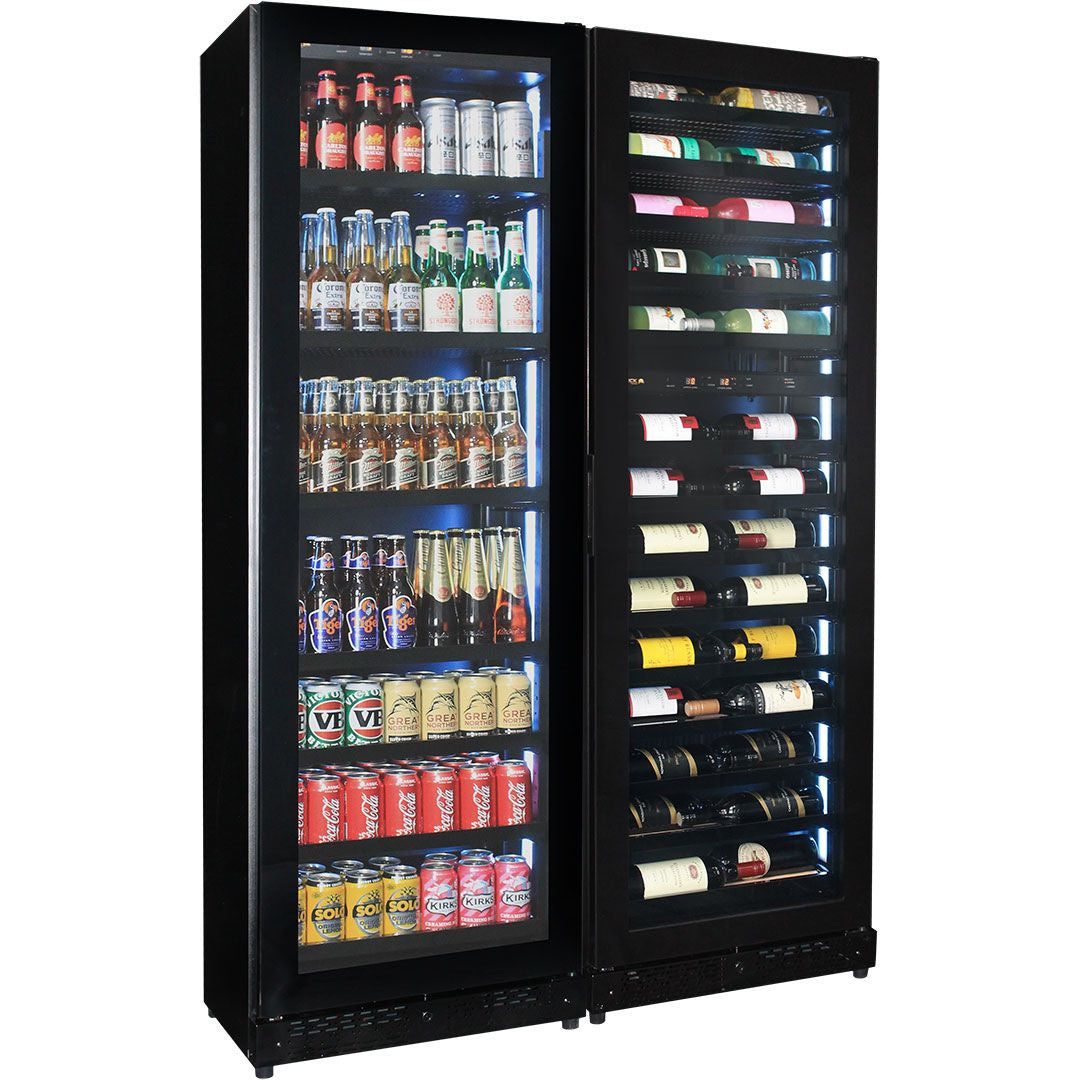 Bar Fridge | 209 Litre Upright Combo
Description

Model Codes

Why buy From Us

Shipping
Bar Fridge | 209 Litre Upright Combo
Elegance Meets Efficiency!
Enjoy FREE delivery in NSW, VIC, QLD (Gold Coast to Sunshine Coast), and the Adelaide region.
Behold the elegant and Classy Upright Beer and Wine Fridge Combination, thoughtfully designed with a shallow depth of 39.5cm, perfect for spaces where every inch matters. This versatile unit can be free-standing or seamlessly built into a cavity, and for added stability, special brackets are included to attach it securely to the wall.
Choose Your Zone Configuration!
Customise your fridge to suit your needs. Opt for the Single Zone model for simplicity or go for the Three Zone option for enhanced versatility. The single zone cools the whole unit from 1-18°C. The three zone has three different cooling sections, the top wine side has a range of 5-15°C and the bottom wine zone has a range of 7-18°C. The whole beer zone has a range of 1-18°C.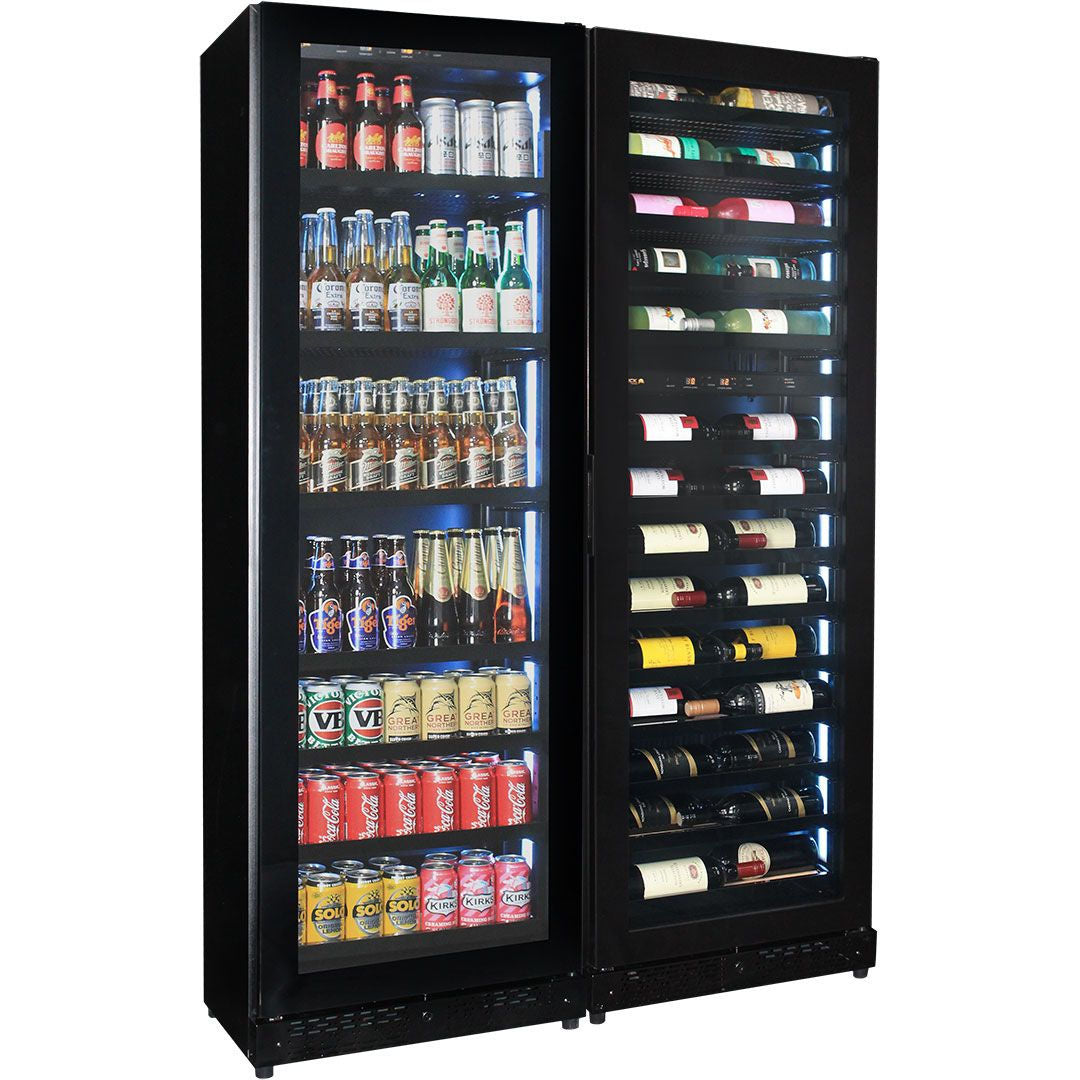 Energy Saving Features and Brand Parts
Eco Friendly
We believe in energy efficiency, and that's why the 209 Litre Upright Combo Bar Fridge is packed with energy-saving features. From 12Volt Fans and Cyclopentane foaming to an energy-saving inverter compressor and LED lighting, this cooler ensures minimal environmental impact. It also uses R600, a 100% ozone-safe gas, and incorporates triple glazing and LOW E glass to prevent condensation.
Premium Components
We take pride in the quality of our products, which is why the 209 Litre Combo Bar Fridge incorporates high-grade components. With a Taiwanese Transformer, Condenser, and Evaporator, as well as the Embraco ECO Compressor, known for its 25% lower running costs, you can trust in the reliability of this cooling unit.
Shelving Information
With 21 slide-out ball bearing telescopic shelves on the interior, each holding 4 bottles, and 7 shelves on the beer side, you'll have ample storage space for your favorite drinks.
Power Consumption and Running Cost
At just 2.60 kW/24hrs, this cooler is impressively energy-efficient, helping you save on your energy bills while being environmentally conscious. Running at approximately $243.32 per year, based on a reasonable 25.64 cents per kilowatt, the 209 Litre Combination Bar Fridge strikes the perfect balance between performance and cost-effectiveness.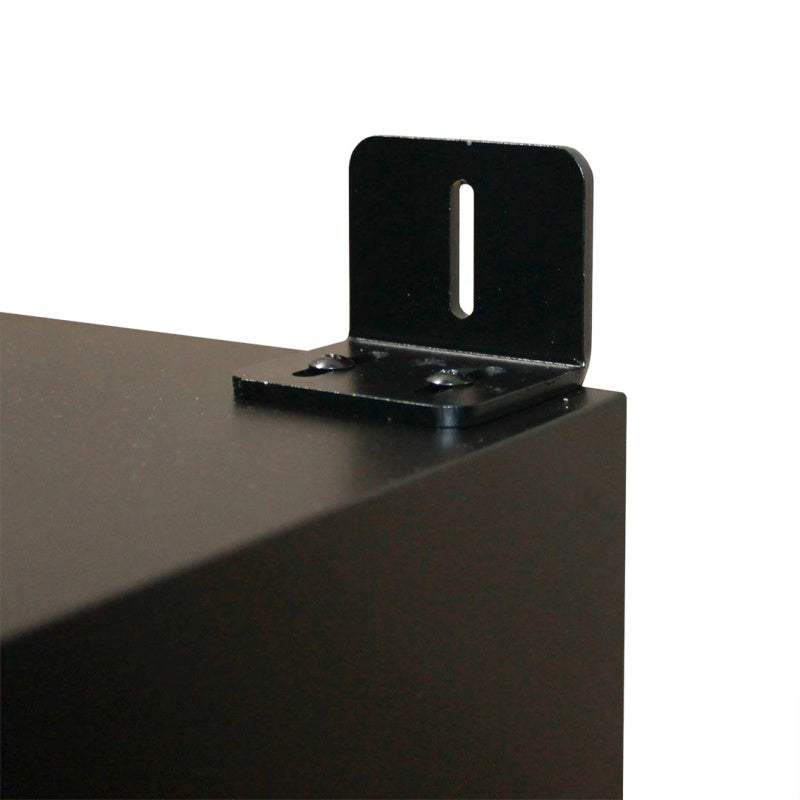 Adjustable Feet and Lockable Doors
For added convenience, the 209 Litre Combination Bar Fridge comes with 8 adjustable feet, allowing you to level the unit on any surface. The lockable doors offer security and peace of mind, ensuring your beverages are safe from unauthorized access. Additionally this Bar Fridge comes with brackets attatched to the top to fix it to the wall.
Bar Fridge | 209 Litre Upright Combo | Specifications
Litres 209
Weight 180kg
Dimensions Width 1200 mm
Depth 395 mm
Height 1820 mm
Capacity 120 cans (375ml)
54 wine bottles
Body Colour Black
Interior Finish Moulded Black
Adjustable Feet Yes 8
Adjustable Feet
Lockable Yes
Glass Door Triple glazed
LOW E glass
Door Hinges 1 x Left
1 x Right
Power Consumtion 2.60 kW/24hrs
Running Costs Approximately
$243.32 per year
Bar Fridge | 209 Litre Upright Combo | Complete Guide
For a complete bar fridge guide on maintenance, tips and performance read here
Peace of mind 30 day returns policy! Find out more here.
Price match guarantee*. Get more details here.
Review Rewards Program! Check it out here.
We provide customer service, via online chat, email, and phone 7 days a week, 7am to 10 pm. Contact us anytime!
Shipping FREE on a range of items!
For bulky items we have multiple items to reduce shipping costs:
Shipping to door, calculated at the product, cart, and checkout pages.

Collect from local depots we ship to, for reduced costs.

Collect for FREE from warehouse where products are shipped from.
You can find all our delivery/shipping details here.
If you have any questions contact us anytime.