Bar Fridge | 2 Door Alfresco | Schmick SC70
Description

Model Code

Why buy From Us

Shipping
Bar Fridge | 2 Door Alfresco | Schmick SC70
Experience Ultimate Outdoor Entertaining!
Enjoy FREE delivery in NSW, VIC, QLD (Gold Coast to Sunshine Coast), and the Adelaide region.
Unleash the epitome of outdoor refreshment with the Schmick Tropical Rated 2 Door Alfresco Bar Fridge Combo. Designed exclusively for the vibrant Australian alfresco lifestyle, this combo consists of two side-by-side 'pigeon pair' units, doubling your cooling capacity and enjoyment. Boasting a triple-glazed stainless steel door, bar handle with a lock, LED strip lighting, and inner fan, this tropical-rated marvel ensures impeccable cooling even in the harshest climates.

With an impressive capacity of 170 standard 375ml cans and 140 liters, these fridges accommodate your refreshment needs. The meticulously designed dimensions, both internal and external, optimise space while ensuring easy accessibility.

You also have the option to choose your preferred LED light colour for the front door by simply choosing the LED light option below.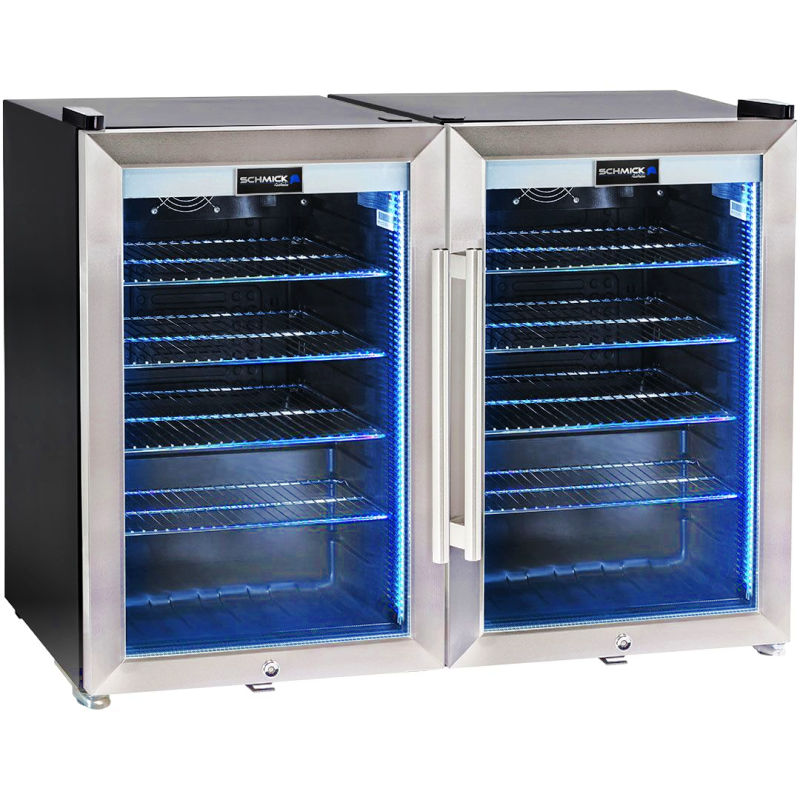 Bar Fridge | 2 Door Triple Glazed | Features
Advanced Cooling: Triple-glazed and tropical-rated, these units excel in challenging conditions, effortlessly chilling to 2°C in ambient temperatures ranging from 10°C to 38°C.

Indoor or Outdoor Oasis: Crafted for both indoor and outdoor enclosed spaces, these fridges seamlessly adapt to your environment, elevating your alfresco experience.

Efficiency Meets Performance: Embrace robust cooling with a power consumption rate of 3.20 kW/24hrs, balancing high performance with energy efficiency.

Trusted Certifications: Certified by MEPS, SAA Electrical, and EMC (C-Tick), these fridges adhere to stringent industry standards, ensuring your peace of mind.

Combo Marvel: Please note, this combo unit consists of two fridges side by side, maximizing your cooling possibilities. (Requires 2 electrical power points)

Secure Convenience: Self-closing and lockable doors provide added convenience and security. Explore the potential for branding, personalizing your mini bar units for a unique touch or a thoughtful gift idea.

Even Cooling: The inner fan system boasts a unique design, ensuring even and stable cooling by forcing air over the evaporator plate.

Tailored Shelving: The molded interiors feature adjustable height configurations, accommodating various drink arrangements with six chromed shelves (350mm x 350mmD) and a bottom shelf (350mmW x 250mmD).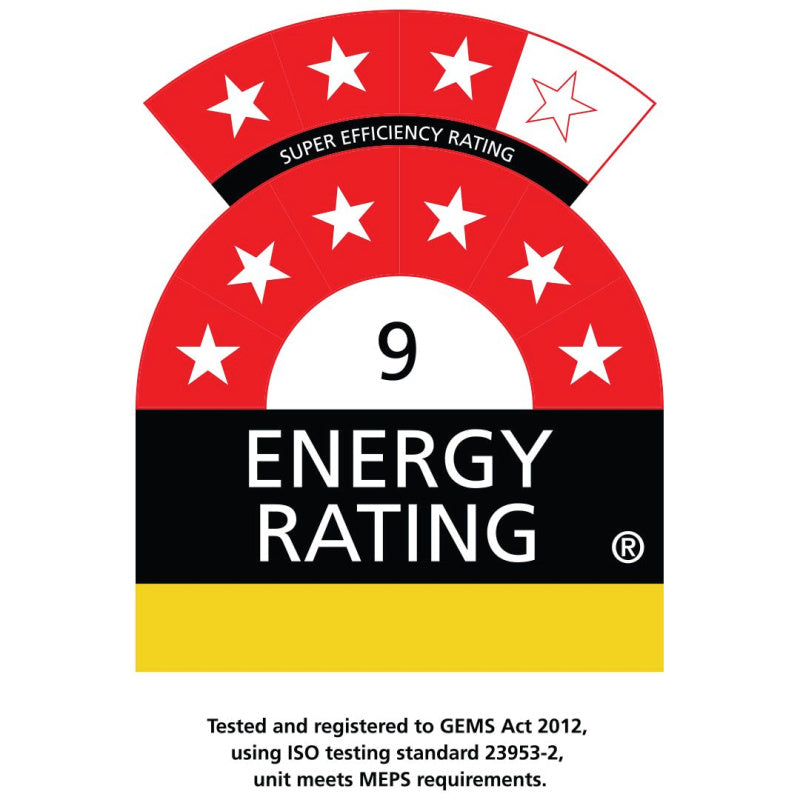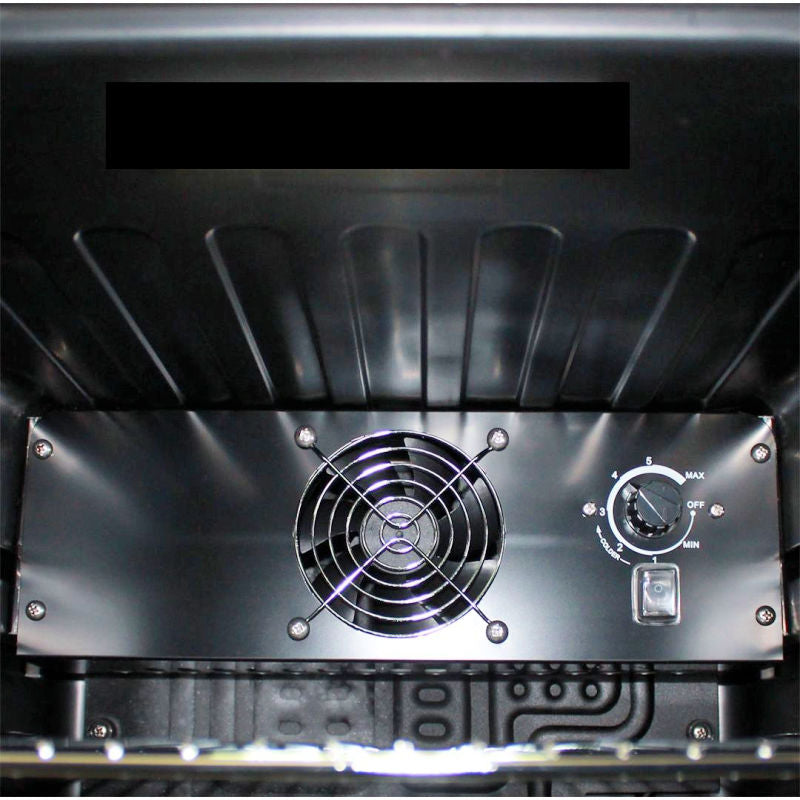 Innovative Elements
Benefit from energy-saving 12Volt Fans, Cyclopentane foaming, LED lighting, LOW E glass, R600 100% ozone-safe gas, and triple glazing, aligning sustainability with top-notch performance.
Brand Components
With an impressive capacity of 170 standard 375ml cans and 140 liters, these fridges will accommodate all your refreshment needs. The meticulously designed dimensions, both internal and external, optimize space while ensuring easy accessibility.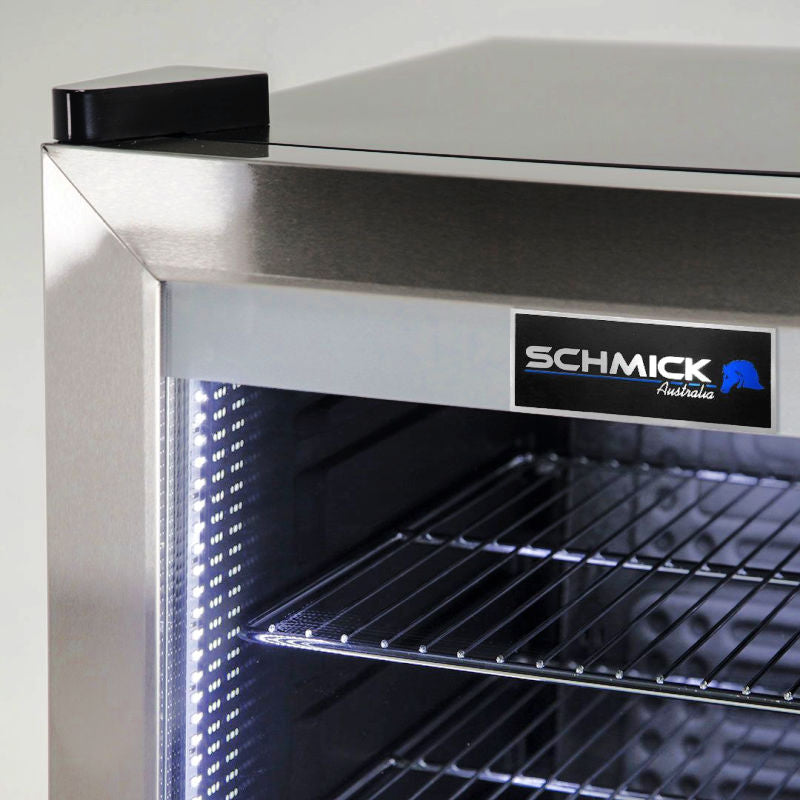 Premium Branding
Our commitment to crafting units that go beyond expectations extends to every detail. From the sleek lines and elegant finishes that grace the exterior to the thoughtfully designed interiors that maximise storage and organisation, Schmick units are a harmonious blend of aesthetics and functionality.
Bar Fridge | 2 Door Triple Glazed | Specifications
Litres: 140
Weight: 68kg
Dimensions: Width 860 mm
Depth 500 mm
Height 700 mm
Capacity: 170 cans
Noise Level: 43dB Similar to
a kitchen fridge
Shelving: 6 chrome shelves
Body Colour: Black
Interior Finish: Black
moulded plastic
Adjustable Feet: Yes
Lockable: Yes
Glass Door: Triple glazed
Low E Glass
Door Hinge: 1 x Right
1 x Left
Power Consumption: 3.20 kW/24hrs
Running Costs: Approximately
$299 per year
Approvals: Meps
SAA Electrical
EMC (C-Tick)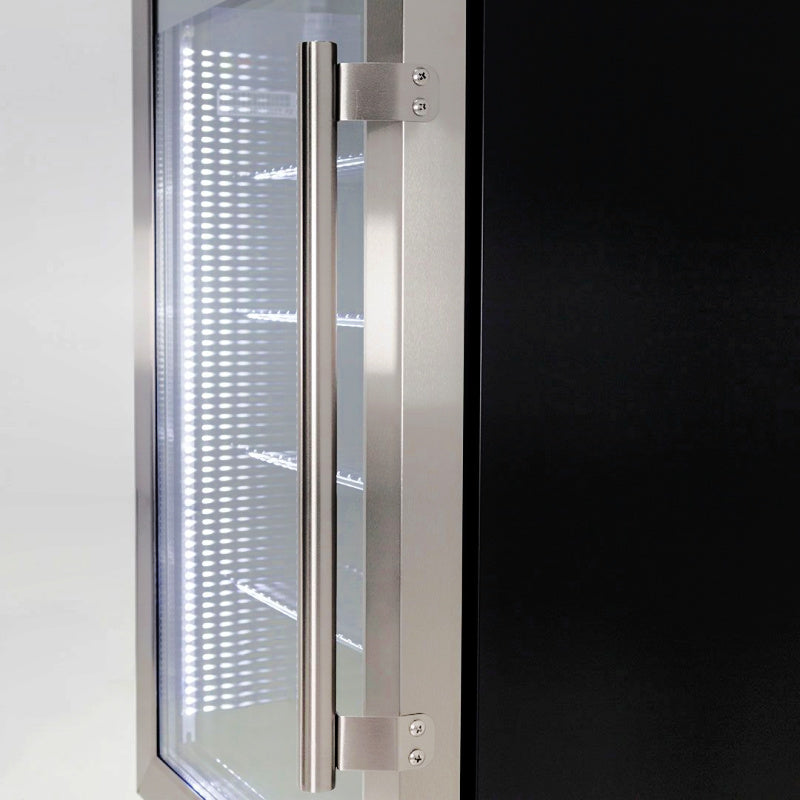 Bar Fridge | 2 Door Triple Glazed | Complete Guide
Dive deeper into the world of cooling sophistication with the Schmick Tropical Triple Glazed Bar Fridge. Discover maintenance tips, performance insights. Explore the Complete guide here.
Peace of mind 30 day returns policy! Find out more here.
Price match guarantee*. Get more details here.
Review Rewards Program! Check it out here.
We provide customer service, via online chat, email, and phone 7 days a week, 7am to 10 pm. Contact us anytime!
Shipping FREE on a range of items!
For bulky items we have multiple items to reduce shipping costs:
Shipping to door, calculated at the product, cart, and checkout pages.

Collect from local depots we ship to, for reduced costs.

Collect for FREE from warehouse where products are shipped from.
You can find all our delivery/shipping details here.
If you have any questions contact us anytime.