Bar Fridge | 2 Door Alfresco | Rhino Envi
Description

Model Codes

Why buy From Us

Shipping
Bar Fridge | 2 Door Alfresco | Rhino Envi
Where Excellence Meets Refreshment!
Enjoy FREE delivery in NSW, VIC, QLD (Gold Coast to Sunshine Coast), and the Adelaide region.
Experience Cooling Excellence with the Rhino Envi 2 Door Bar Fridge Series! Elevate your refreshment game with the most energy-efficient marvel on the market. Immerse yourself in the world of 316 marine-grade stainless steel construction, a Japanese ECO variable-speed inverter compressor, and an array of premium features that redefine cool convenience. Designed to thrive in scorching climates of 43°C+, this bar fridge sets the standard for performance and longevity.
Upgrade Your Refreshment Experience
Elevate your space and your beverages with the Rhino Envi 2 Door Bar Fridge. Crafted for excellence, engineered for efficiency, and designed for the Australian way of life, it's more than a fridge; it's a statement of sophistication. Choose the Rhino Envi and redefine the way you enjoy refreshments.
Bar Fridge | 2 Door Alfresco | Rhino Envi | Unrivaled Features
Chill with Confidence: Effortlessly cool down to zero degrees, maintaining icy-cold drinks even in sweltering 43°C+ conditions.

Seamless Suitability: Perfectly adaptable for indoor and outdoor spaces, allowing you to savor refreshment wherever you desire.

Power with Efficiency: Consuming only 1.33 kW/24hrs, enjoy cold beverages without breaking the bank. Running cost: Approx $124.47 per year.

The reversible door design provides flexible installation options, while the LOW E glass prevents unsightly condensation.

Coastal Companion: Crafted with 316 stainless steel, safeguarding against rust in coastal areas and ensuring longevity.

Eco-Friendly Operations: Embrace eco-conscious cooling with features like 12Volt fans, Cyclopentane foaming, and R600 100% ozone-safe gas.

Dimensions: External - Width:900mm, Depth:575mm, Height:840mm; Internal - Width:810mm, Depth:440mm, Height:680mm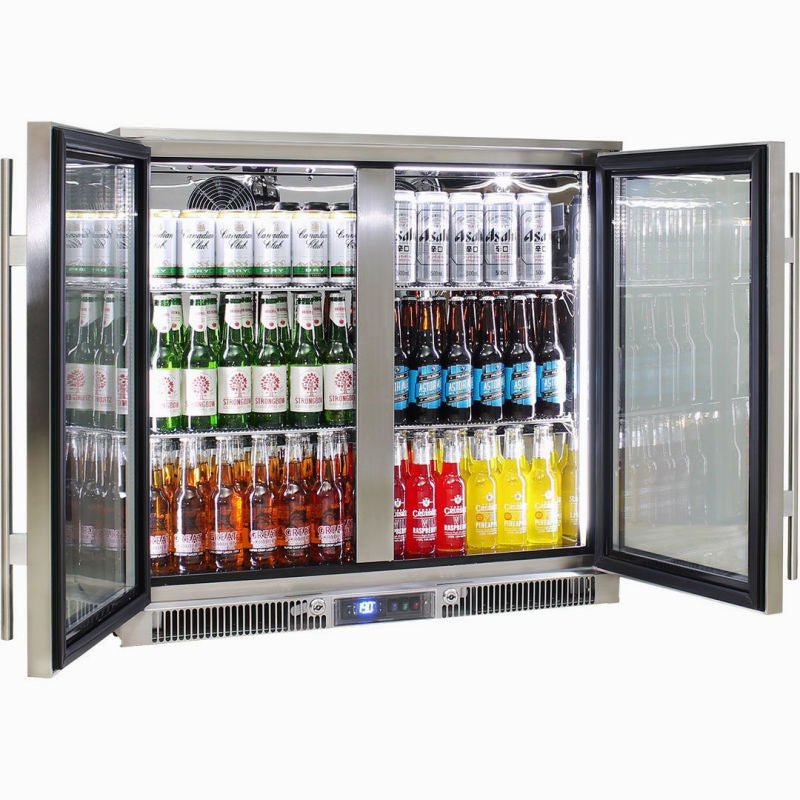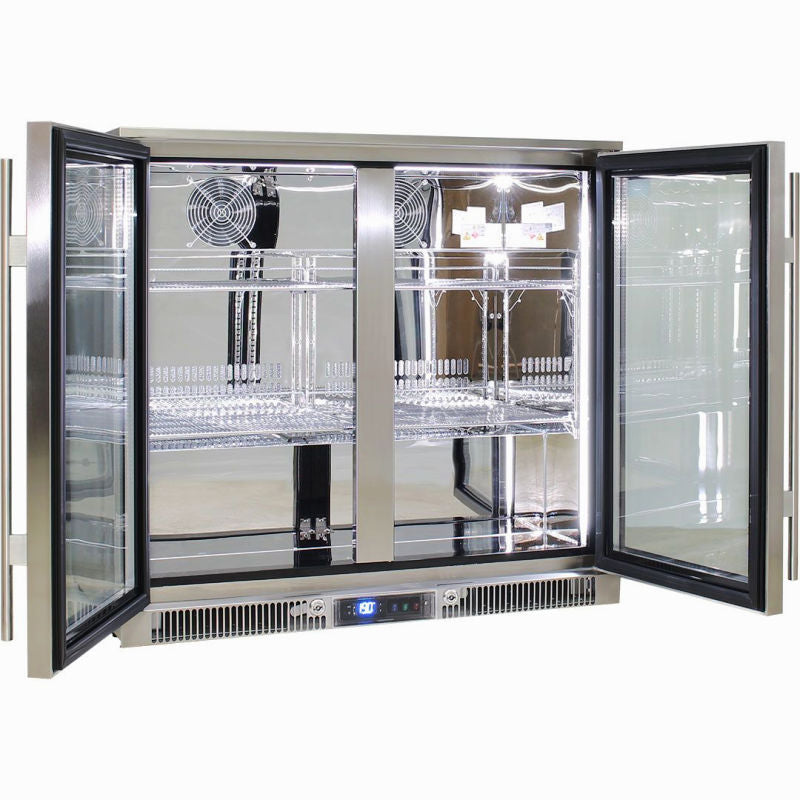 Ample Capacity
Boasting a generous capacity, this fridge accommodates up to 160 Corona bottles, 240 standard 375ml cans, 48 standard wine bottles, or a combination that suits your preferences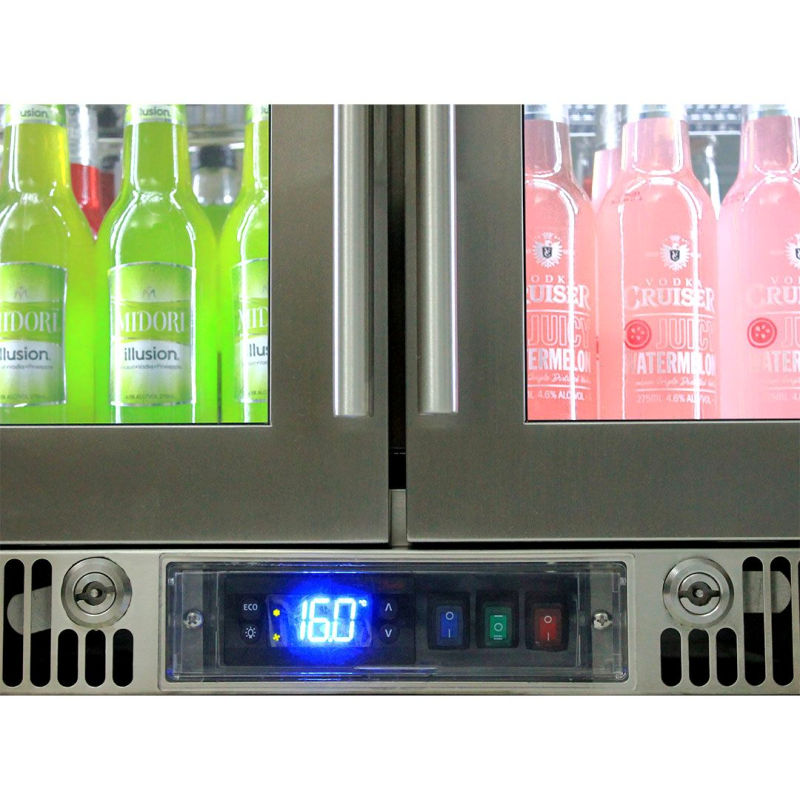 Trusted by Industry Leaders
Rhino's reputation for excellence is well-earned. Being the preferred supplier to esteemed corporate giants like Heineken and Fosters Group is a testament to their quality.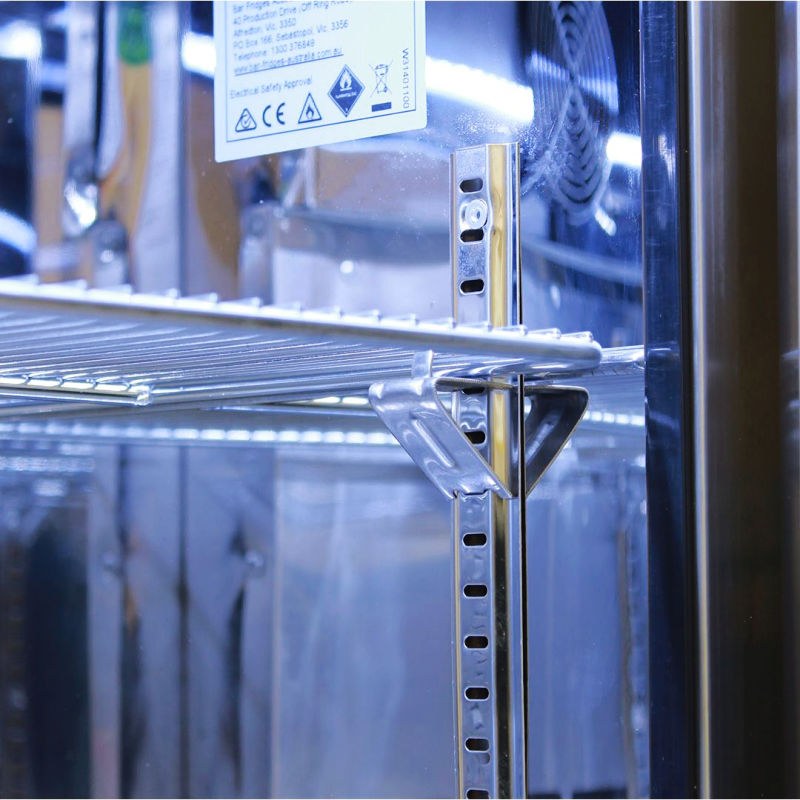 Smart Shelving Design
The Rhino Envi understands that flexibility matters. With 4 fully adjustable 'no sag' chromed shelves, you'll have the freedom to organize your drinks just the way you like.
Bar Fridge | 2 Door Alfresco | Rhino Envi | Specifications
Litres: 248
Weight: 83kg
Dimensions: Width - 900 mm
Depth - 580 mm
Height - 810 mm
Capacity: 240 cans (375ml)
Noise Level: 43dB
(Similar to a kitchen fridge)
Shelving: 4 shelves
Body Colour: 316 Stainless Steel
Interior Finish: Polished
304 Stainless steel
Adjustable Feet: Yes
Lockable: Yes
Glass Door: Triple glazed
Tempered
LOW E glass
Door Hinge: 1 x Right
1 x Left
Power Consumption: 1.33 kW/24hrs
Running Costs: Approx $124 per year
Approvals: IP24 Outdoor Rated
Meps
SAA Electrical
EMC
Bar Fridge | 2 Door Alfresco | Rhino Envi | Complete Guide
Dive deeper into the world of cooling sophistication with the Rhino Envi Alfresco Bar Fridge. Discover maintenance tips, performance insights. Explore the Complete guide here
Peace of mind 30 day returns policy! Find out more here.
Price match guarantee*. Get more details here.
Review Rewards Program! Check it out here.
We provide customer service, via online chat, email, and phone 7 days a week, 7am to 10 pm. Contact us anytime!
Shipping FREE on a range of items!
For bulky items we have multiple items to reduce shipping costs:
Shipping to door, calculated at the product, cart, and checkout pages.

Collect from local depots we ship to, for reduced costs.

Collect for FREE from warehouse where products are shipped from.
You can find all our delivery/shipping details here.
If you have any questions contact us anytime.