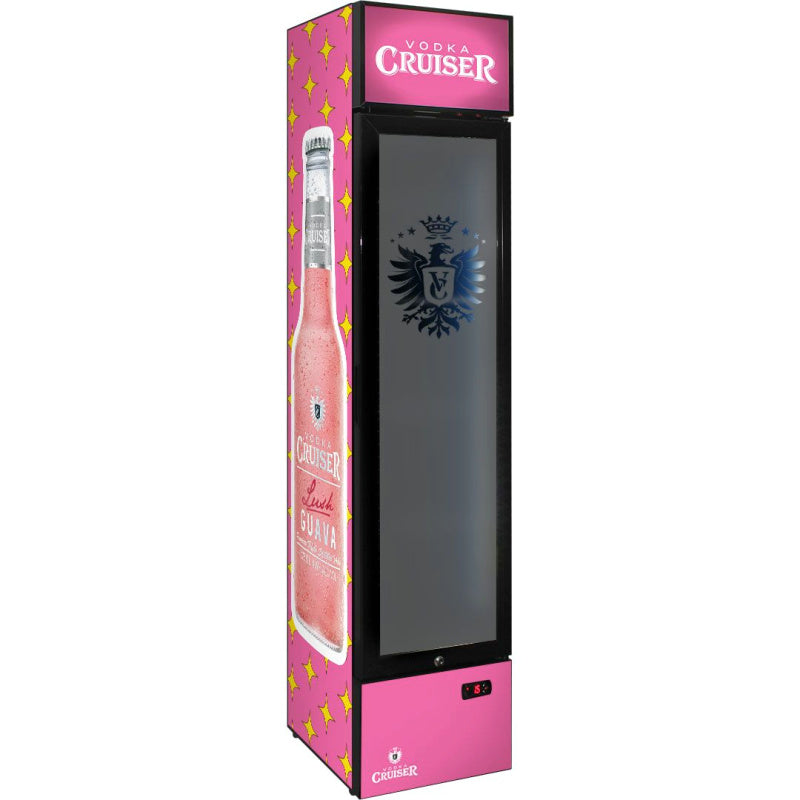 Bar Fridge | 160 Litre Vodka Cruiser Branded
Description

Model Code

Why buy From Us

Shipping
Bar Fridge | 160 Litre Vodka Cruiser Branded |The Ultimate Entertainer's Choice
Enjoy FREE delivery in NSW, VIC, QLD (Gold Coast to Sunshine Coast), and the Adelaide region.

Unveiling the epitome of cool, our Upright 160-litre Vodka Cruiser bar fridge has arrived, and it's here to revolutionise your entertainment space. With customisable shelf options, triple-glazed LOW E glass, a secure lock, and brand name components, this Branded Bar Fridge is not your average refrigerator.
Specifications at a Glance
Capacity: 144 Standard 375ml cans or 160 litres
Shelving: 5 x Shelves (294mm x 325mm)
Dimensions: Width 390mm x Depth 475mm x Height 1880mm
Color: Vodka Cruiser Branded
Door/Grill Finish: Black
Interior Finish: Smashed Black Aluminum
Cooling Powerhouse: Zero to Chilled in a Heatwave
When it comes to keeping your drinks perfectly chilled, our bar fridge doesn't break a sweat. It effortlessly cools down to zero degrees Celsius even in scorching 32°C+ temperatures, making it ideal for both indoor and outdoor use.
Eco-Friendly & Cost-Efficient: Your Wallet Will Thank You
Say goodbye to hefty electricity bills. With a power consumption rate of just 2.10 kW/24hrs, this fridge costs approximately $196.53 per year, saving you money while keeping your beverages frosty. It's a win-win!
Whisper-Quiet Operation: No More Unwanted Noise
With a noise level akin to your kitchen fridge at 43.00dB, our Bar Fridge won't disrupt your conversations or movie nights. It's the silent companion your entertainment space deserves.
Quality Assurance: Built to Last
Rest easy knowing your fridge is equipped with top-notch components, including a Carel Controller from Italy, EBM Fans, and a Transformer from Taiwan. This fridge is engineered for longevity and reliability.
Tailored to Perfection: Personalise Your Space
With fully adjustable shelves and a lockable door, you have the flexibility to organize your beverages just the way you like. Plus, inquire about our branding options – we can customize the lightbox with your design, making it a unique and thoughtful gift.
Eco-Friendly Features: Green & Energy-Saving
Our Bar Fridge is environmentally conscious with features like Cyclopentane foaming, LED lighting, R600 100% ozone-safe gas, an electronic controller, an energy-saving compressor, German energy-efficient EBM fans, and LOW E glass.
Steady and Secure: Stands Firm, Locks Tight
This fridge comes with four adjustable feet for stability, ensuring it stays in place no matter where you put it. Plus, the lockable door keeps your drinks safe and secure.
Crystal-Clear Visibility: Triple-Glazed Tempered Glass
The triple-glazed LOW E glass not only enhances energy efficiency but also prevents condensation, giving you a clear view of your collection at all times.
Elevate your entertainment room with our Branded Bar Fridge. Whether you're hosting a gathering or simply want to enjoy your favorite beverages in style, this fridge is the perfect companion.
For a complete bar fridge guide on maintenance, tips and performance read here
Peace of mind 30 day returns policy! Find out more here.
Price match guarantee*. Get more details here.
Review Rewards Program! Check it out here.
We provide customer service, via online chat, email, and phone 7 days a week, 7am to 10 pm. Contact us anytime!
Shipping FREE on a range of items!
For bulky items we have multiple items to reduce shipping costs:
Shipping to door, calculated at the product, cart, and checkout pages.

Collect from local depots we ship to, for reduced costs.

Collect for FREE from warehouse where products are shipped from.
You can find all our delivery/shipping details here.
If you have any questions contact us anytime.