Bar Fridge | 160 Litre Beer Branded
Description

Model Codes

Why buy From Us

Shipping
Bar Fridge | 160 Litre Beer Branded
Enjoy FREE delivery in NSW, VIC, QLD (Gold Coast to Sunshine Coast), and the Adelaide region.

Introducing our Beer Branded Bar Fridges - an upright, stylish, and energy-efficient addition to your entertainment room or outdoor space. These 160-litre fridges proudly displays the iconic Beer Branded logo of your choice, making it a perfect fit for any beer enthusiast. Choose From 9 Different Brands.
Upgrade your entertainment space with the Beer Branded Bar Fridge, offering a perfect blend of style, efficiency, and functionality. Enjoy your favorite beverages chilled and ready to serve, all while showcasing your love for Beer Brands. Whether it's for your home bar, man cave or patio, this fridge is designed to impress.
Creating a branded masterpiece requires meticulous attention to detail and precision. We want to ensure that your branding is executed flawlessly. Please note that the  branding process can take up to two weeks.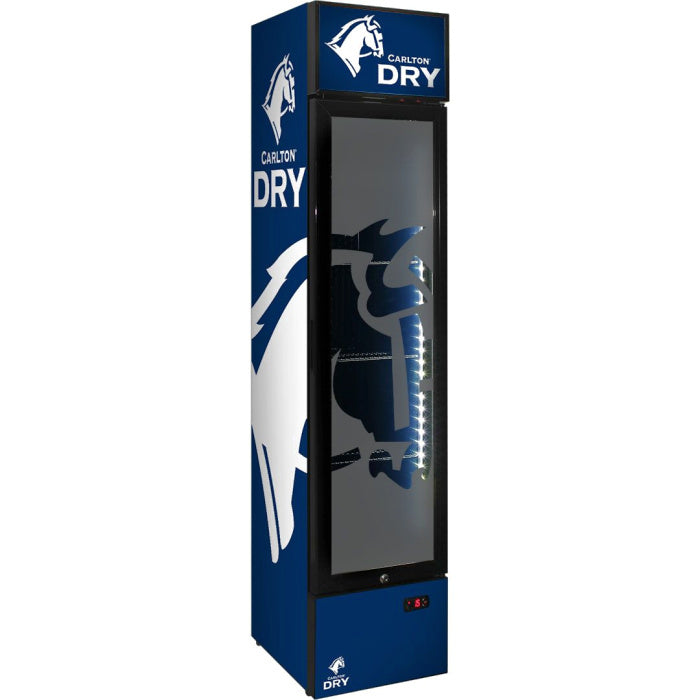 Bar Fridge Technical Details
Cools to zero (0°C) in temperatures as high as 32°C+ without any issues.

Suitable for both indoor and outdoor use.

Consumes approximately 2.10 kW/24hrs, translating to an annual running cost of about $196.53 (based on 25.64 cents per kilowatt).

Operates at a quiet 43.00dB, similar to the volume of a typical kitchen fridge.

This fridge boasts reliable components, including a Carel Controller from Italy, EBM Fans, and a Transformer from Taiwan.

Weighing 60.00 kg, it's sturdy and durable.

Expect reliable performance with top-notch components
Triple Glazed LOW E Glass
The fridge's glass door is designed to prevent condensation effectively, keeping your beverages visible and cool.
German EBM Low Noise Fan
Enjoy a peaceful environment while this energy-efficient fan ensures smooth operation.
Fully Adjustable Shelves and Lockable Door
Customise the interior to fit your needs and keep your drinks secure with the lockable door.
Bar Fridge | 160 Litre Beer Branded Specifications:
Litres: 160
Capacity: 144, 375ml cans
Dimensions: Width: 390mm
Depth: 475mm
Height: 1880mm
Adjustable Feet: Yes
(4 adjustable feet)
Lockable: Yes
Glass Door Information: Triple glazed
Tempered
LOW E glass
Door Hinged: Right Hinge
(Handle on Left)
Shelving: 5 x Shelves
Width: 294 mm
Depth: 325mm
Body Color: Black
Door/Grill Finish: Beer Branded
Weight: 60.00 kg
Interior Finish: Smashed Aluminum
Bar Fridge | 160 Litre Beer Branded Complete Information Link
For a complete bar fridge guide on maintenance, tips and performance read here
SS-P160-GNBC-ORIG
SS-P160-GNBC-CRISP
SS-P160-GNBC-GOLD
SS-P160-CORONA
SS-P160-VB-V1
SS-P160-DRY
SS-P160-DRAUGHT
SS-P160-FOSTERS
SS-P160-Melbourne
SS-P160-ASAHI
SS-P160-PERONI
Peace of mind 30 day returns policy! Find out more here.
Price match guarantee*. Get more details here.
Review Rewards Program! Check it out here.
We provide customer service, via online chat, email, and phone 7 days a week, 7am to 10 pm. Contact us anytime!
Shipping FREE on a range of items!
For bulky items we have multiple items to reduce shipping costs:
Shipping to door, calculated at the product, cart, and checkout pages.

Collect from local depots we ship to, for reduced costs.

Collect for FREE from warehouse where products are shipped from.
You can find all our delivery/shipping details here.
If you have any questions contact us anytime.