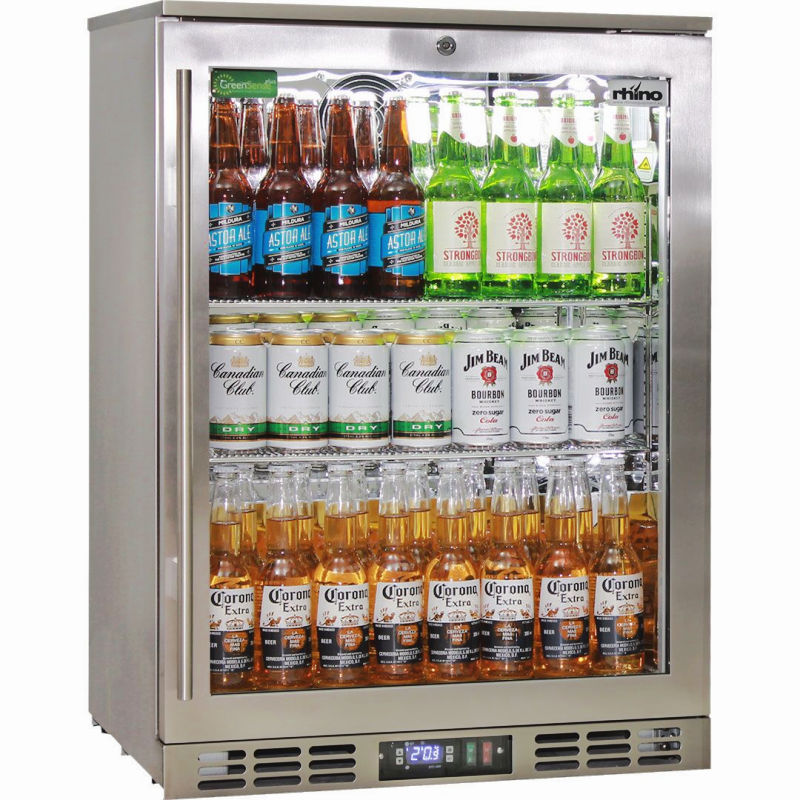 Bar Fridge | Single Door Alfresco | Rhino SG1
Description

Model Codes

Why buy From Us

Shipping
Bar Fridge | Single Door Alfresco | Rhino SG1
The Ultimate Rhino Stainless Steel Heated Glass Door Bar Fridge!
Enjoy FREE delivery in NSW, VIC, QLD (Gold Coast to Sunshine Coast), and the Adelaide region.
Are you looking for a top-of-the-line bar fridge that combines impeccable design, cutting-edge technology, and energy efficiency? Look no further than our Rhino All Stainless Heated Glass Door Bar Fridge. Crafted with precision by the best engineers and built by a reputable long-term manufacturer, this fridge is here to revolutionise your chilling experience.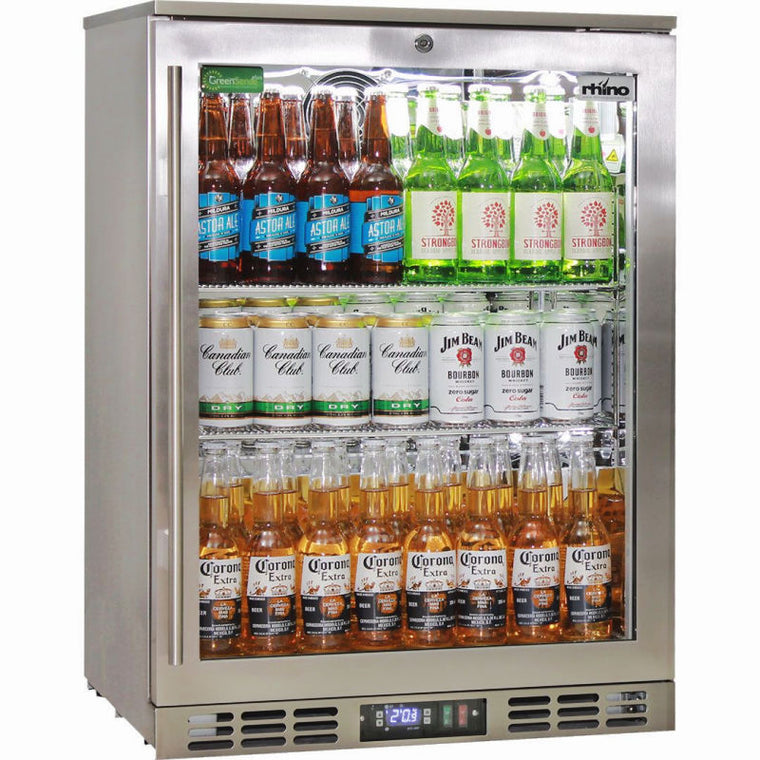 Bar Fridge | Single Door Alfresco | Rhino | Standout Features
With its polished stainless steel interior, low-energy compressor, and German EBM fans, this bar fridge is designed to perform flawlessly, even under tough conditions. Experience efficient cooling to an impressive 1-2°C, without breaking a sweat, even in 38°C weather. Perfect for commercial pubs or under-covered alfresco spaces, indoors or outdoors!

Embrace Rhino technology, boasting one of the market's most energy-efficient heated glass options. This fridge is eco-conscious and wallet-friendly, consuming just 2.23 kW/24hrs, saving you approximately $208.7 per year based on 25.64 cents per kilowatt. Feel good about your purchase and contribute to a greener world!

Rhino has long been a pioneer in commercial refrigeration, preferred by global giants like Heineken and Fosters Group for their energy-efficient technologies. You can trust the reliability and longevity of Rhino products, ensuring your fridge will stand the test of time.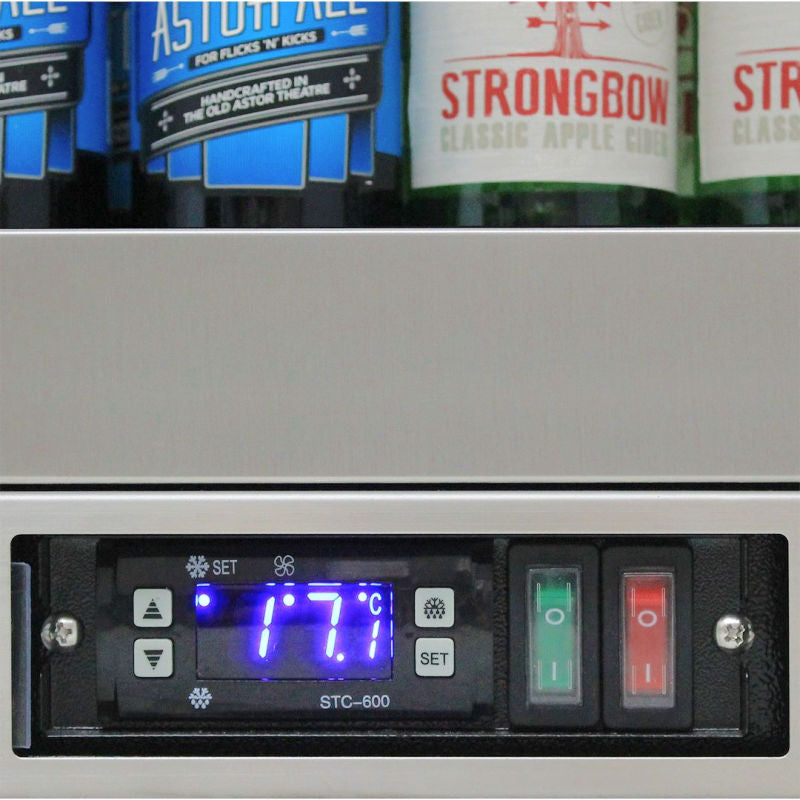 Unmatched Quality - Built for Versatility:
Our Rhino quality fridges are renowned for their exceptional cooling capabilities, speedy chilling, and minimal energy consumption. The usage of top-notch brand name parts ensures longevity and reliability for years to come.
Eco-Friendly and Noise Conscious
Say goodbye to excess noise and harmful gases! This fridge features Cyclopentane foaming, German energy-saving EBM fans, Philips LED lighting, and R600 100% ozone-safe gas. Rest assured, your chilling experience is eco-friendly and whisper-quiet, akin to a fan-forced oven.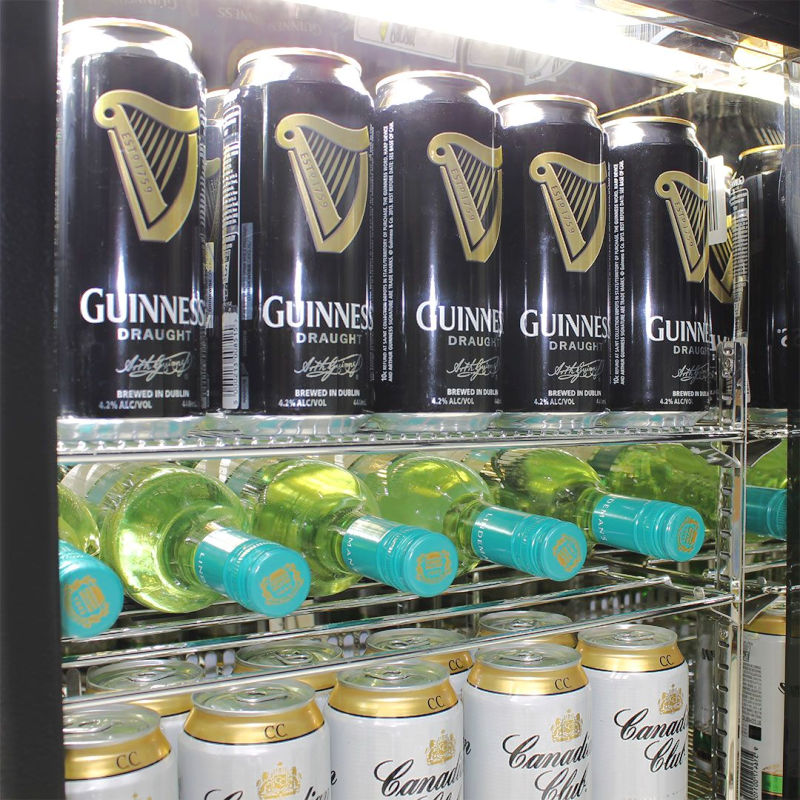 Style Meets Practicality
Crafted with precision, this bar fridge boasts a sleek tempered heated glass door, polished 304 stainless steel interior, and a stylish stainless steel door/grill finish. You also have the choice or right or left hand hinged
Bar Fridge | Single Door Alfresco | Specifications
Litres: 129
Weight: 65kg
Dimensions: Width 600 mm
Depth 500 mm
Height 840 mm
Capacity: 140 cans (375ml)
Noise Level: 47dB Similar to
a kitchen fridge
Shelving: 2 shelves
Body Colour: 304
Stainless Steel
Interior Finish: Polished 304
Stainless steel
Adjustable Feet: Yes
Lockable: Yes
Glass Door: Heated Glass
Door Hinge: Right or
Left Hinged
Power Consumption: 2.23 kW/24hrs
Running Costs: Approximately
$208 per year
Approvals: Meps
SAA Electrical
EMC (C-Tick)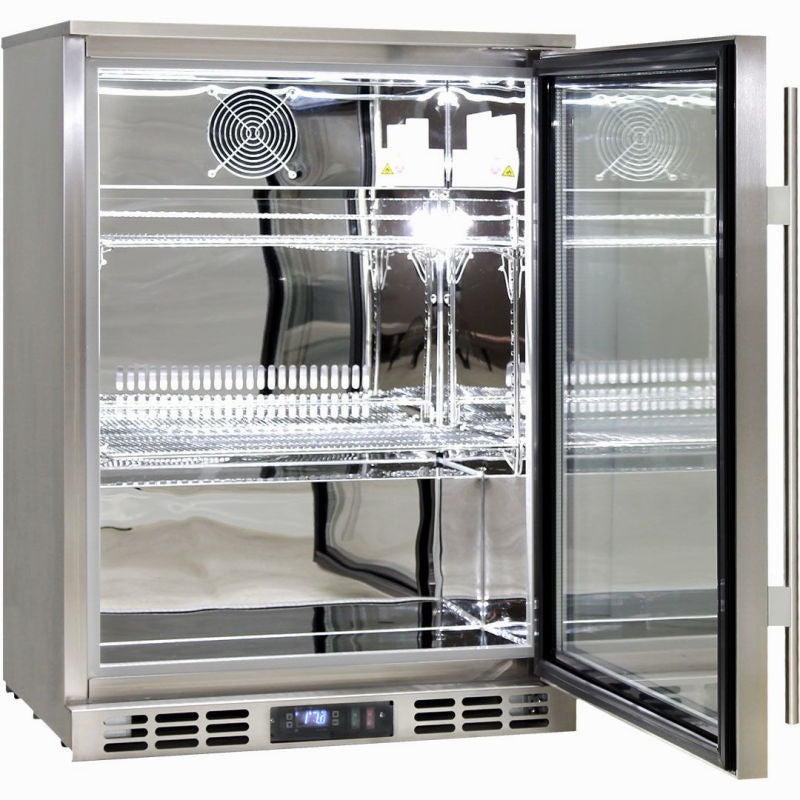 Bar Fridge | Single Door Alfresco | Rhino SG1 | Complete Guide
For a complete bar fridge guide on maintenance, tips and performance read here
Peace of mind 30 day returns policy! Find out more here.
Price match guarantee*. Get more details here.
Review Rewards Program! Check it out here.
We provide customer service, via online chat, email, and phone 7 days a week, 7am to 10 pm. Contact us anytime!
Shipping FREE on a range of items!
For bulky items we have multiple items to reduce shipping costs:
Shipping to door, calculated at the product, cart, and checkout pages.

Collect from local depots we ship to, for reduced costs.

Collect for FREE from warehouse where products are shipped from.
You can find all our delivery/shipping details here.
If you have any questions contact us anytime.