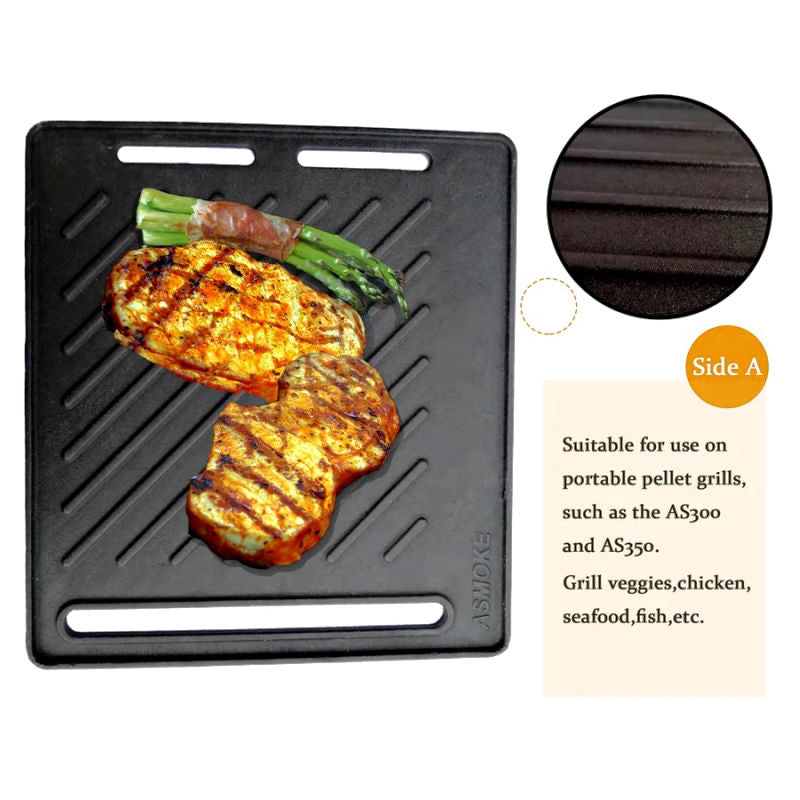 Cast Iron Pre Seasoned BBQ Grill | Griddle | ASMOKE
Description

Why buy From Us

Shipping
The grill/griddle plate is the perfect accessory for your ASMOKE AS300 and ASMOKE AS350 grills. Made of high-quality matte enamel cast iron, this plate is designed to provide exceptional performance and durability, ensuring that you can use it for years to come.
This versatile plate is compatible with ASMOKE AS300 and AS350 models, and it can be used as a grill or a griddle, depending on your cooking needs. The cast iron construction provides even heating and excellent heat retention, allowing you to cook your food to perfection every time.
With its generous size, this grill/griddle plate is perfect for cooking a wide range of foods, from steaks and burgers to pancakes and eggs. And because it is made of cast iron, it can be used on any type of heat source, including gas and electric.
Cleaning the grill/griddle plate is also easy, thanks to its non-stick surface. Simply wipe it down with a damp cloth after each use, and it will be ready for your next grilling adventure.
So if you're looking to take your outdoor cooking to the next level, the grill/griddle plate is the perfect accessory for you. Order yours today and experience the exceptional performance and versatility of this high-quality cast iron plate.
Peace of mind 30 day returns policy! Find out more here.
Price match guarantee*. Get more details here.
Review Rewards Program! Check it out here.
We provide customer service, via online chat, email, and phone 7 days a week, 7am to 10 pm. Contact us anytime!
Shipping FREE on a range of items!
For bulky items we have multiple items to reduce shipping costs:
Shipping to door, calculated at the product, cart, and checkout pages.

Collect from local depots we ship to, for reduced costs.

Collect for FREE from warehouse where products are shipped from.
You can find all our delivery/shipping details here.
If you have any questions contact us anytime.