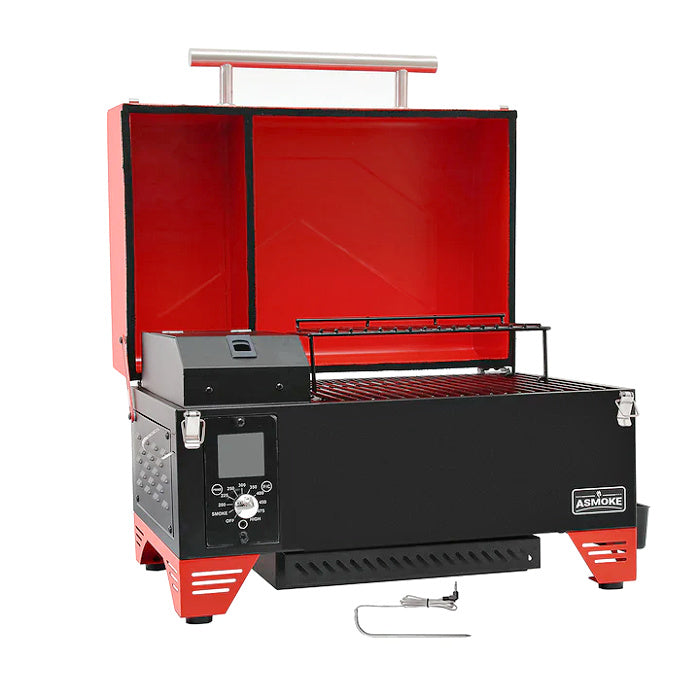 Portable BBQ Grill Wood Pellet Smoker | AS350
Description

Why buy From Us

Shipping
Three colours to choose from - Red, black, and Orange

Discover the innovative ASMOKE Portable Pellet Smoker And Grill, featuring the patented ASCA System™, the ideal outdoor cooking companion for those who appreciate succulent, smoked, and flavorsome meals. The ASMOKE Portable Pellet Smoker offers a hassle-free, efficient, and tasty grilling experience without the need to vacuum ash or deal with messy cleanups.
Portable BBQ Grill Wood Pellet Smoker | AS350 Specifications
L x W x H  -  62cm x 39 cm x 40 cm (lid depth is 16.5 cm of the height)
2 kg Pellet Hopper (approx 4 pounds)
Steel and Stainless Steel construction
Porcelain coating non-stick grill
Removable upper grill
Meat probe included
With generous measurements of 620mm in length, 390 mm in width, and 400mm in height, this ASMOKE pellet smoker provides plenty of space to smoke a delicious meal.
Revolutionary ASCA Vapour System™
Introducing the groundbreaking ASCA System™, the Portable Pellet Smoker is now equipped with an innovative cool-down vapor flow technology, which enables automatic collection of pellet ash in the bottom tray. Enjoy cleaner pellet combustion and the convenience of automatic ash cleaning without ever needing to vacuum your grill.
Moreover, the ASMOKE Portable Pellet Smoker features micro-particles technology, ensuring a consistently moist airflow within the grill, producing unparalleled flavors.
Add any liquid seasonings such as beer, whiskey, wine, or diluted sauces, and the superheated steam generated by the cutting-edge ASCA System™ technology will make your meat more succulent, tender, and bursting with flavor.
Unmatched Cooking Speed
The ASMOKE Portable Pellet Smoker offers unrivaled speed, enabling you to cook food three times faster than traditional grills without compromising taste or flavor. With the included stainless steel meat probe, you can effortlessly monitor your food's internal temperature and achieve the ideal level of doneness every time.
5-Year Warranty and Bonus Accessories
To top it all off, the ASMOKE Portable Pellet Smoker includes a 5-Year Limited Warranty and extra accessories, allowing you to confidently and easily enjoy your outdoor cooking adventures. Regardless of your grilling experience, the ASMOKE Portable Pellet Smoker is the ultimate outdoor cooking solution you won't want to miss. Order yours today and savor the exceptional grilling experience!
Portable BBQ Grill Wood Pellet Smoker | AS350 Review
Peace of mind 30 day returns policy! Find out more here.
Price match guarantee*. Get more details here.
Review Rewards Program! Check it out here.
We provide customer service, via online chat, email, and phone 7 days a week, 7am to 10 pm. Contact us anytime!
Shipping FREE on a range of items!
For bulky items we have multiple items to reduce shipping costs:
Shipping to door, calculated at the product, cart, and checkout pages.

Collect from local depots we ship to, for reduced costs.

Collect for FREE from warehouse where products are shipped from.
You can find all our delivery/shipping details here.
If you have any questions contact us anytime.