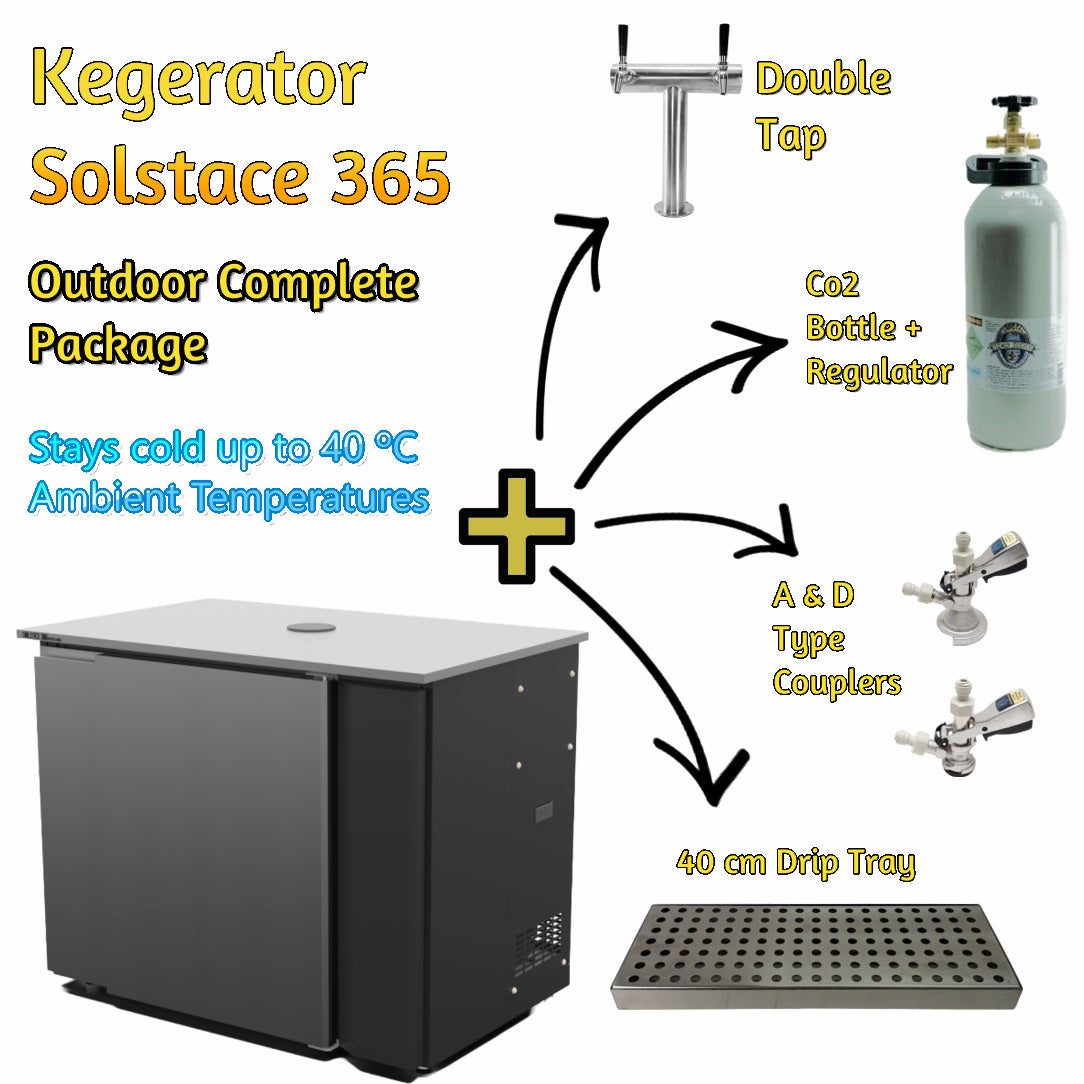 Kegerator | Solstace 365 Indoor or Outdoor | Complete Package
Description

Model Code

Why buy From Us

Shipping
KegMaster Solstice 365 | Your Ultimate Kegerator and Beer Fridge Solution
Are you in search of a versatile and eco-friendly kegerator or beer fridge that can accommodate up to 10 x 19L kegs or 2 x 50L kegs, while offering outstanding power efficiency and innovative design features? Look no further than the KegMaster Solstice 365, a revolution in kegerator technology.
The KegMaster Solstice 365 stands out as a game-changer in the world of kegerators. With the unique ability to run on DC power, this cutting-edge device allows you to cool your kegs using solar power or batteries. Alternatively, you can easily connect it to a standard 10-amp household outlet for immediate access to refreshing, on-tap beverages – all within the sleek stainless steel confines of this remarkable kegerator.
Constructed entirely of stainless steel, the KegMaster Solstice 365 offers both a stunning visual impact and easy maintenance. Its sanitary surfaces, both inside and out, ensure your kegerator remains in top condition.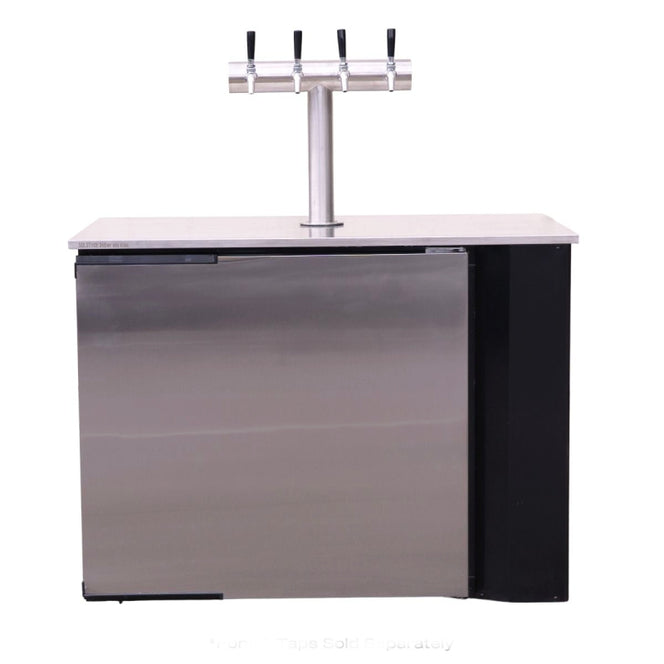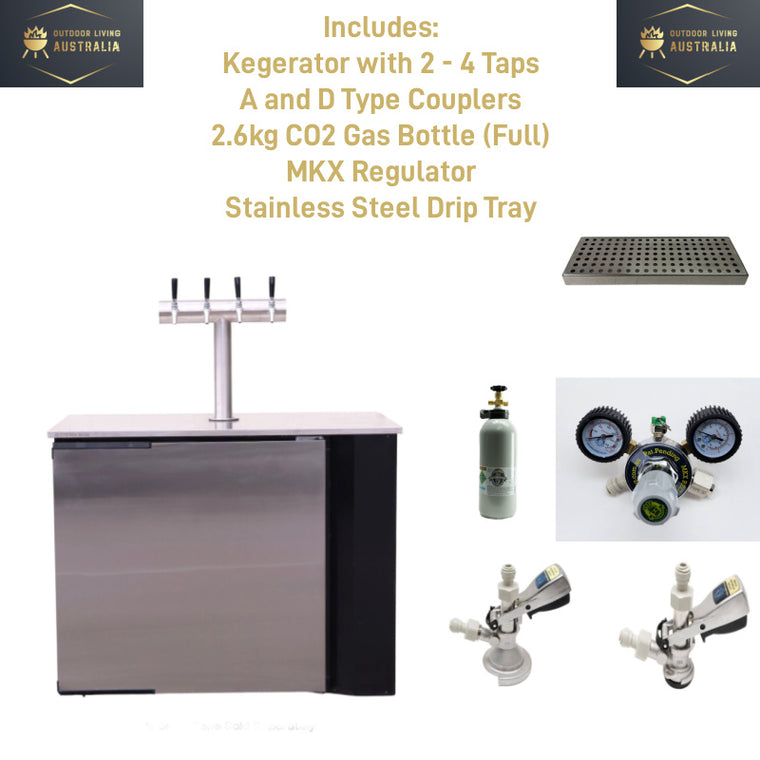 The KegMaster Solstice 365 | A Complete Kegerator Package
At the heart of this package is the KegMaster Solstice 365 kegerator itself. This state-of-the-art kegerator redefines the way you enjoy your favourite beverages. With its powerful heating and cooling capabilities, visual appeal, and versatile design, it's the perfect centerpiece for your beverage dispensing needs.
Ensure your kegs are always perfectly carbonated with the included 2.6kg CO2 gas canister. It's the key to maintaining the ideal pressure and carbonation levels for your beverages, providing consistent quality every time you pour a drink.
The MKX regulator is a critical component of the package. It allows you to precisely control the gas flow to your kegs, ensuring that your beverages are dispensed at the right pressure, enhancing the quality of your drinks, and reducing waste.
Our package also includes A&D type couplers, making it easy to connect your kegs to the kegerator. These couplers are reliable and compatible with various keg types, simplifying the setup process and ensuring a secure connection.
Maintaining cleanliness and tidiness is effortless with the included 40cm stainless steel drip tray. It captures any drips or spills, preventing messes and allowing for easy cleanup. Its durable construction ensures long-lasting use and adds a touch of sophistication to your setup.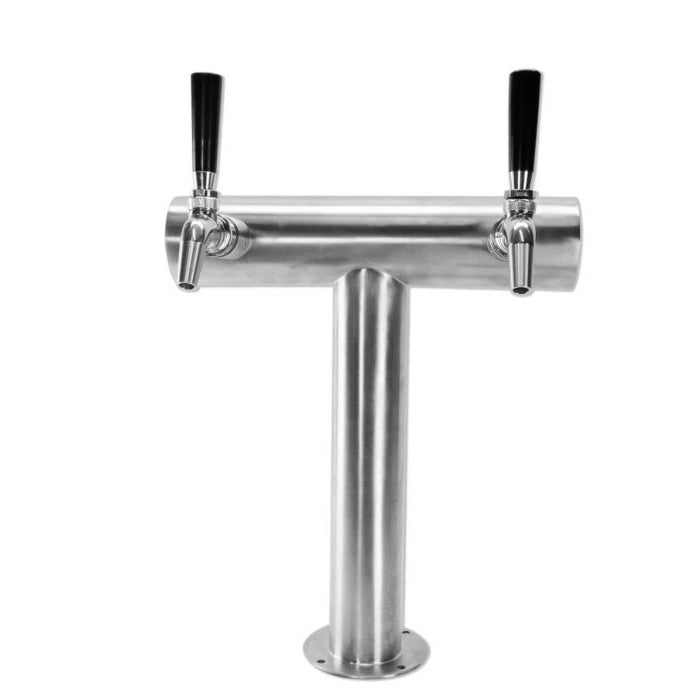 Versatile Usage - Ideal for All Environments
One of the standout features of the KegMaster Solstice 365 is its remarkable ability to withstand ambient temperatures of up to 40°C. This level of resilience ensures that even on a sweltering day you can come home and enjoy a nice cold beer or beveridge of your choice.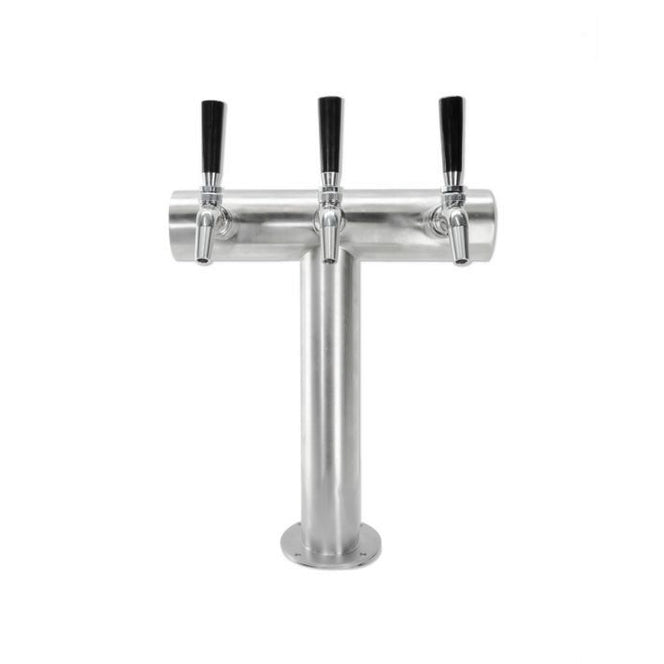 Exceptional Storage Capacity for Your Beverage Needs
One of the standout features of the KegMaster Solstice 365 is its remarkable storage capacity. Whether you're a passionate homebrewer, a bar owner, or a party host, this kegerator offers an expansive interior that can comfortably house a wide array of kegs and other essentials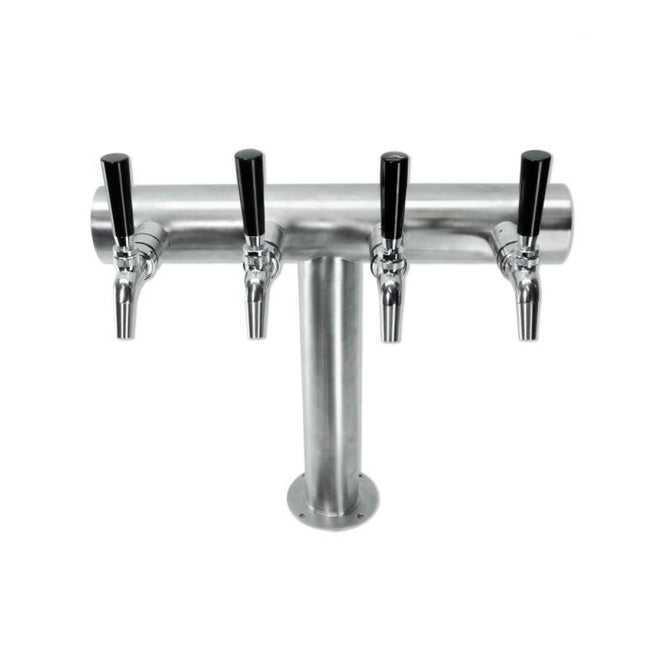 Energy Efficient and Reduced Emissions
In addition to its eco-conscious refrigerant choice, the Solstice 365 is inherently energy-efficient. Its design ensures that it operates with the utmost efficiency, minimising energy consumption and reducing emissions. This not only lowers your operational costs but also lessens your carbon footprint.
Kegerator | Solstace 365 Indoor/Outdoor | Specifications
Dimensions Length: 1145mm
Depth: 713mm
Height: 880mm
Weight 53kg
Cassette Weight 13kg
Volume 276 Litres
Power10amp Power Point
12v 20amp DC
Heating 130 Watts
Cooling 240 watts
Refridgerant Gas R600a (40g)
Insulation Cyclopentane
Packaged
Dimensions Length: 1150mm
Depth:750mm
Height: 1200mm
Included
AccessoriesFont & Taps
A&D Couplers
MKX Regulator
400mm Drip Tray
Font304
Stainless Steel

TapsChoose Between
2 - 4 Taps
Body304
Stainless Steel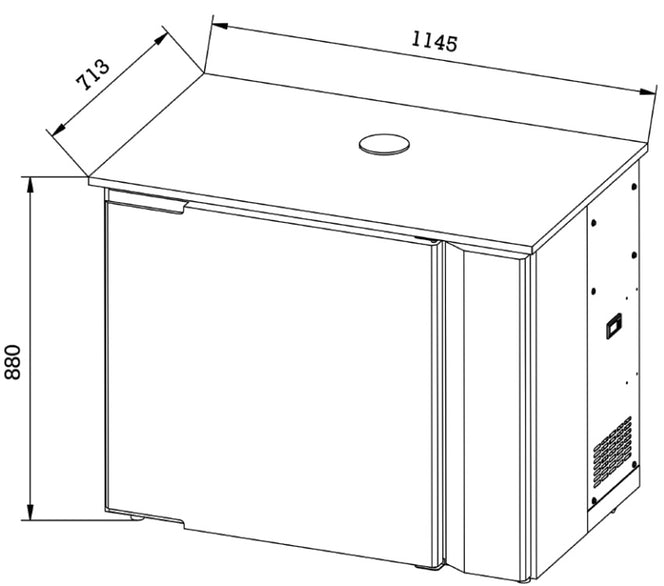 Some Brands that A&D Type Couplers are Compatible with
A Type

Couplers

D Type Couplers
Brookvale Bulmers
Bundaberg & Cola Carlton Draught
Canadian Club Carlton Cold
Coopers Cascade
Furphy Crown Lager
Hahn Great Northern
Heineken Peroni
James Squire Pure Blonde
Tooheys Somersby
XXXX Gold VB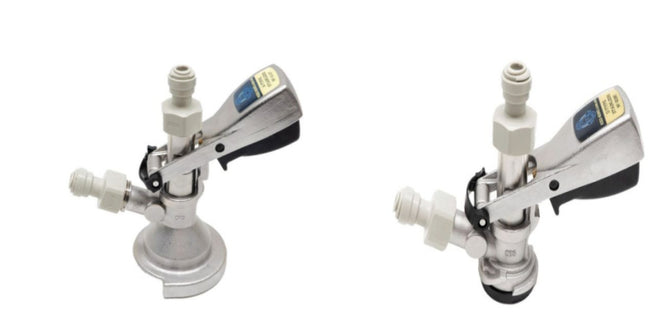 Peace of mind 30 day returns policy! Find out more here.
Price match guarantee*. Get more details here.
Review Rewards Program! Check it out here.
We provide customer service, via online chat, email, and phone 7 days a week, 7am to 10 pm. Contact us anytime!
Shipping FREE on a range of items!
For bulky items we have multiple items to reduce shipping costs:
Shipping to door, calculated at the product, cart, and checkout pages.

Collect from local depots we ship to, for reduced costs.

Collect for FREE from warehouse where products are shipped from.
You can find all our delivery/shipping details here.
If you have any questions contact us anytime.