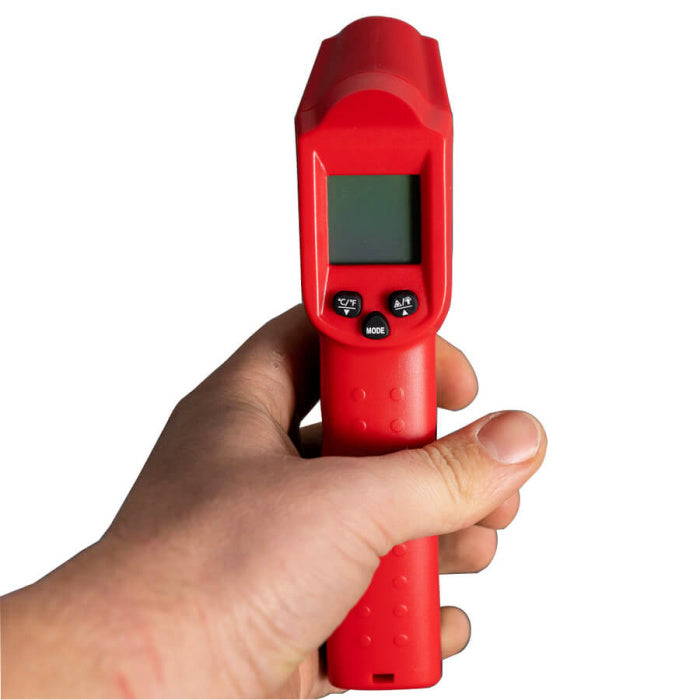 Infrared Thermometer | Surface Reading +/- 2ºC
Description

Why buy From Us

Shipping
Infrared Thermometer | Flaming Coals
Achieve perfect temperature control with this Infrared Thermometer from Flaming Coals. With just one touch, this innovative device accurately measures surface temperatures, making it ideal for checking the brick temperature in your pizza oven and ensuring crispy pizza bases every time. Upgrade your cooking experience today and never worry about undercooked or burnt food again!
Discover endless uses for the versatile  Infrared Thermometer. From achieving the perfect pizza crust in your pizza oven to checking engine components, water pipes, cooking surfaces, electrical connections, and BBQ temperatures, this device has got you covered.
Infrared Thermometer Features:
Precise non-contact IR Thermometer with easy point and shoot monitoring and built-in laser for accurate targeting

Temperature Range -50~550°C / -58~1022°F

Accuracy >100°C ±2% / <100° ±2°C

Higher Precision: 12:1 D:S, which means it can measure targets at greater distances than most others; The distance between the thermometer and the object of measurement should be around 14.17 inches (36 cm) for best accuracy

Aim Quicker: Response time: 0.5s; A built-in laser allows you to focus on the exact place you want to measure.

Adaptable design: Infrared technology allows you to monitor the surface temperature of a variety of items, particularly at temperatures above boiling and below freezing. It may be used for cooking, ovens, air conditioning, refrigerators, and soapmaking, among other things.

Repeatability 1% or 1°C

Emissivity: adjustable 0.1~1.0

Resolution: adjustable 0.1°C / 0.2°F

Battery 2x1.5V AAA (not included)

Celcius or Fahrenheit display

Laser on/off setting

Model: FC_infrared
Peace of mind 30 day returns policy! Find out more here.
Price match guarantee*. Get more details here.
Review Rewards Program! Check it out here.
We provide customer service, via online chat, email, and phone 7 days a week, 7am to 10 pm. Contact us anytime!
Shipping FREE on a range of items!
For bulky items we have multiple items to reduce shipping costs:
Shipping to door, calculated at the product, cart, and checkout pages.

Collect from local depots we ship to, for reduced costs.

Collect for FREE from warehouse where products are shipped from.
You can find all our delivery/shipping details here.
If you have any questions contact us anytime.