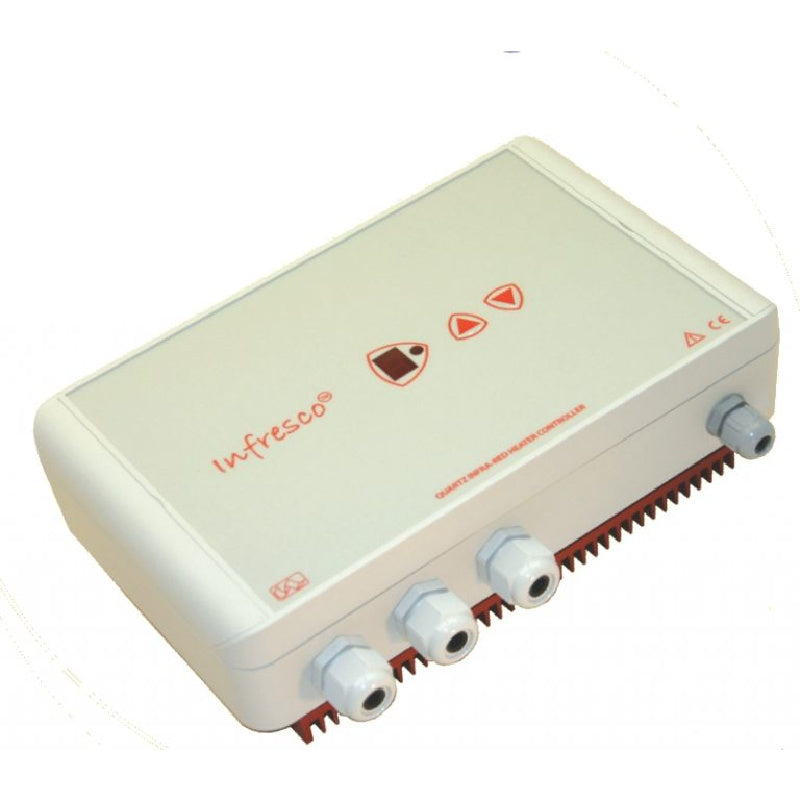 Infresco 6000 W Infrared Heater Controller
Description

Why buy From Us

Shipping
Efficient Control and Enhanced Longevity: The Infresco Wall-Mounted Controller. This system is suitable for up to 6kW of infrared heaters (for example 3 x 2000 W heaters).
Superior Heat Management:
The Infresco controller is a powerful 6kW wall-mounted unit designed specifically for infrared heaters, providing exceptional control and extended heater lifespan.
Featuring a soft-start function, this controller gradually increases the current flow, effectively eliminating high inrush current when the heater is switched on. This intelligent feature can increase the heater's life expectancy by up to 30%.
Precise Temperature Control:
Experience unparalleled control over your heating system with the Infresco controller, offering 10 output levels for precise temperature adjustments.
These output levels enable you to fine-tune the heat output of your infrared heater, ensuring optimal comfort and customized warmth to suit your preferences.
Enjoy greater control over heat output, allowing you to create the perfect ambiance in your outdoor space.
Intuitive Manual Operation:
The Infresco controller operates solely through a user-friendly keypad interface, providing manual control over the heater's settings.
Effortlessly navigate through the various output levels using the keypad, allowing you to easily adjust the heat output according to your desired temperature.
Clear Output Level Indication:
An LED indicator on the controller clearly displays the selected output level, providing immediate visual feedback and ensuring accurate control over the heat output.
This intuitive feature allows you to monitor and adjust the heater's settings with ease, enhancing your overall heating experience.
Durable and Weatherproof Design:
Built to withstand outdoor conditions, the Infresco controller boasts an IP65 rating, ensuring optimal performance and durability.
The controller's robust construction and weatherproof design make it suitable for outdoor use, providing reliable operation even in challenging weather conditions.
Simple and Hassle-Free Installation:
Installing the Infresco controller is a straightforward process, thanks to its user-friendly design and simple 3-core cable in-line wiring requirements.
The easy installation procedure ensures a hassle-free setup, allowing you to quickly enjoy the benefits of precise temperature control and enhanced heater performance.
Upgrade Your Outdoor Heating Experience:
Elevate your outdoor comfort with the Infresco wall-mounted controller, offering precise control, increased heater lifespan, and intuitive manual operation.
Experience customizable warmth and create a cozy atmosphere tailored to your preferences in any outdoor setting.
Note: Professional installation is recommended to ensure proper wiring and optimal performance.
Discover the power of efficient control and extended heater lifespan with the Infresco wall-mounted controller. Take command of your outdoor heating system, effortlessly adjusting temperature settings and enjoying customized warmth. Embrace the comfort and versatility provided by the Infresco controller, transforming your outdoor space into a haven of relaxation and enjoyment.
Peace of mind 30 day returns policy! Find out more here.
Price match guarantee*. Get more details here.
Review Rewards Program! Check it out here.
We provide customer service, via online chat, email, and phone 7 days a week, 7am to 10 pm. Contact us anytime!
Shipping FREE on a range of items!
For bulky items we have multiple items to reduce shipping costs:
Shipping to door, calculated at the product, cart, and checkout pages.

Collect from local depots we ship to, for reduced costs.

Collect for FREE from warehouse where products are shipped from.
You can find all our delivery/shipping details here.
If you have any questions contact us anytime.