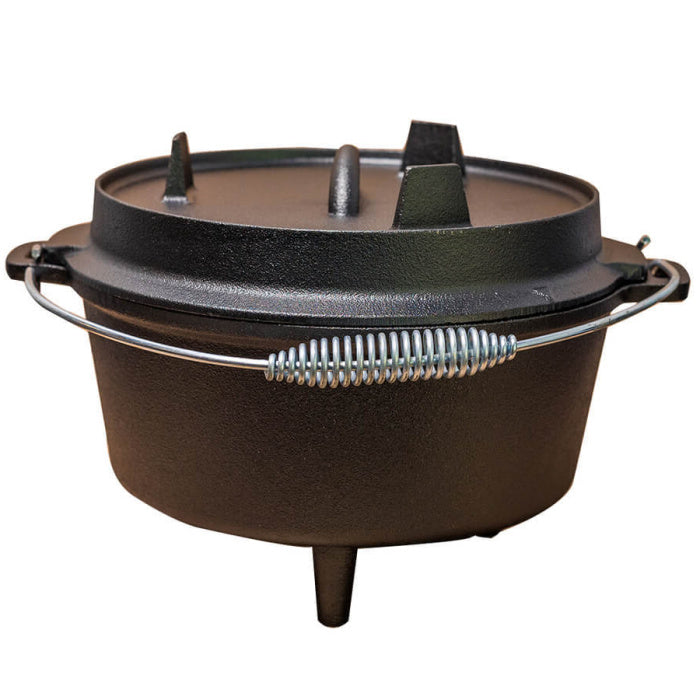 Cast Iron Dutch Oven 4.5qt | Camping Oven
Description

Why buy From Us

Shipping
Cast Iron Dutch Oven 4.5qt | Flaming Coals
Discover the essential companion for your Australian wilderness adventures - the pre-seasoned Cast Iron Dutch Oven & Skillet 4.5qt. With its thick-walled design and moulded lid for a secure fit, this versatile pot retains moisture and enhances the flavours of slow-cooked meals. The lid doubles as a skillet, expanding your camping cooking options to include frying bacon, eggs, burgers, and pancakes. Equipped with built-in legs for stability on uneven terrain and a raised lip on the lid to prevent coal accidents, this Dutch oven is a must-have for foodie campers.
Also known as Dutch ovens with legs, these cast iron wonders bring the convenience of home baking to the Australian outback. Even if rain interrupts your camping plans, fear not - simply use your Dutch oven in a regular oven by placing it on an oven tray with a baking sheet.
Your Cast Iron Dutch Oven & Skillet is built to last a lifetime with proper care. No pre-use preparation is necessary, and minimal aftercare is required. Avoid using soapy water or metal brushes, as this can damage the seasoning. Follow our simple instructions to preserve the seasoning and pass down this cherished Dutch oven as a gift for future generations to enjoy.
Features: 
Pre-Seasoned so you can start cooking right away

Heavy-duty cast iron build for superior heat dispersion and heat retention – in case you want to serve a dish in the pan itself, it will most likely remain warm for the entire meal. Be careful to use heatproof gloves while handling it as it transfers heat very well.

A tight-fitting lid keeps foods moist 

Flanged lid to hold coal on top

The lid also doubles as a full-size skillet - Flip over the lid and fry or saute' on your skillet

Lid with handle

Wire carry handle - ensures easy lifting

Build-in legs both on the bottom of the Dutch oven and on the lid - Great for cooking outdoors over charcoal and elevating the pot/skillet from the hot coals underneath

Great for campfire or fireplace cooking

Naturally non-stick surface due to the seasoning – you can prepare delicious meals with less oil

Iron intake – if you are iron deficient, the cast iron cookware will leach iron into your food and help provide the 18 mg of iron adult women need daily.

Long-lasting - made from the same base material that builds engine blocks, they are guaranteed to last a very, very long time. In fact, the more you cook with it, the better (and more seasoned) it gets.

Versatile – you can use your cast iron for almost any cooking experience.
Specifications:
Product dimensions: 30cm W x 30cm L x 17cm H
Peace of mind 30 day returns policy! Find out more here.
Price match guarantee*. Get more details here.
Review Rewards Program! Check it out here.
We provide customer service, via online chat, email, and phone 7 days a week, 7am to 10 pm. Contact us anytime!
Shipping FREE on a range of items!
For bulky items we have multiple items to reduce shipping costs:
Shipping to door, calculated at the product, cart, and checkout pages.

Collect from local depots we ship to, for reduced costs.

Collect for FREE from warehouse where products are shipped from.
You can find all our delivery/shipping details here.
If you have any questions contact us anytime.