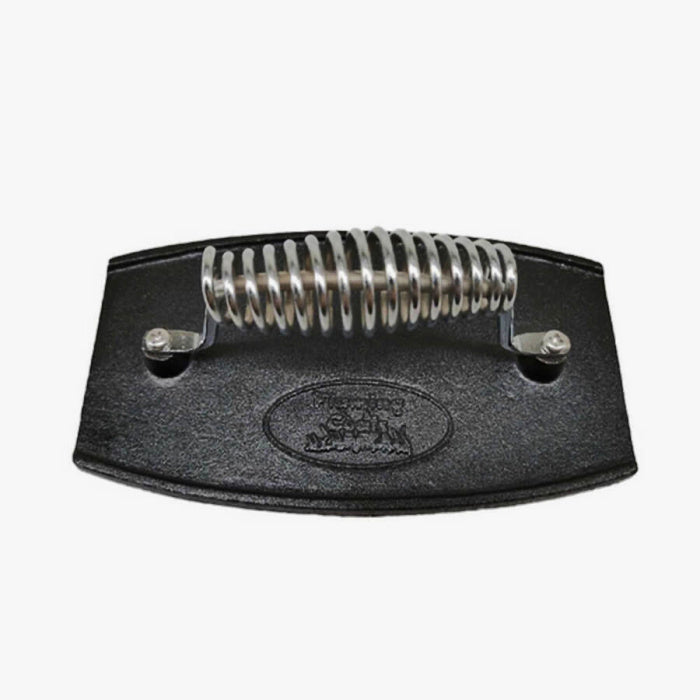 Cast Iron Burger Press | Flaming Coals
Description

Why buy From Us

Shipping
Cast Iron Burger Press | Flaming Coals
Discover the ultimate BBQ tool for faster cooking, perfectly shaped burgers, and juicy results with the Flaming Coals Cast Iron Burger Grill Press. This versatile press is a game-changer, shortening cooking times by up to 25-30% and locking in moisture for irresistibly crispy and moist burgers.
Unleash the potential of your outdoor BBQ or stovetop skillet with this multi-purpose burger meat press, also known as a grill press, steak weight, or bacon press. No need to buy multiple tools when one does it all.
The Flaming Coals Cast Iron Grill Press comes pre-seasoned for immediate use. However, if you prefer a fresh start, follow the simple instructions below to re-season it.
Length: 23cm 

Width: 13.2cm at the widest point and 10cm at the narrowest point

Weight: 1.28kgs
Using the burger grill press is a breeze:
Before each use, wipe off any excess oil.
Preheat your BBQ grill and place the press directly above the heat. Once your desired grilling temperature is reached, move the press aside.
Put your food on the grill and position the press on top. No need to apply excessive pressure; let gravity work its magic.
Cook your food as usual, but keep in mind that cooking times will be reduced, so flip your food a bit earlier.
An instant-read thermometer is recommended for easy checking of doneness.
After cooking, allow the press and grill to cool. Clean the press with a paper towel. For stuck-on food, use a stiff brush and hot water (avoid detergents and metal brushes that can damage the seasoned coating).
Once cooled and dried, give the press a light coat of cooking oil before storing.
For optimal performance, season your cast iron bacon/burger grill press:
Heat vegetable oil in a skillet and place the press face down.
Remove the burger press and spread the oil evenly with a paper towel.
Return the burger press to the oil and let it "cook" for 20 minutes.
Turn off the flame, take out the press, and let it cool gradually on a paper towel.
Congratulations! Your burger press is now perfectly seasoned.
Upgrade your BBQ experience and unleash the full potential of your cooking with the Flaming Coals Cast Iron Burger Grill Press.
Peace of mind 30 day returns policy! Find out more here.
Price match guarantee*. Get more details here.
Review Rewards Program! Check it out here.
We provide customer service, via online chat, email, and phone 7 days a week, 7am to 10 pm. Contact us anytime!
Shipping FREE on a range of items!
For bulky items we have multiple items to reduce shipping costs:
Shipping to door, calculated at the product, cart, and checkout pages.

Collect from local depots we ship to, for reduced costs.

Collect for FREE from warehouse where products are shipped from.
You can find all our delivery/shipping details here.
If you have any questions contact us anytime.