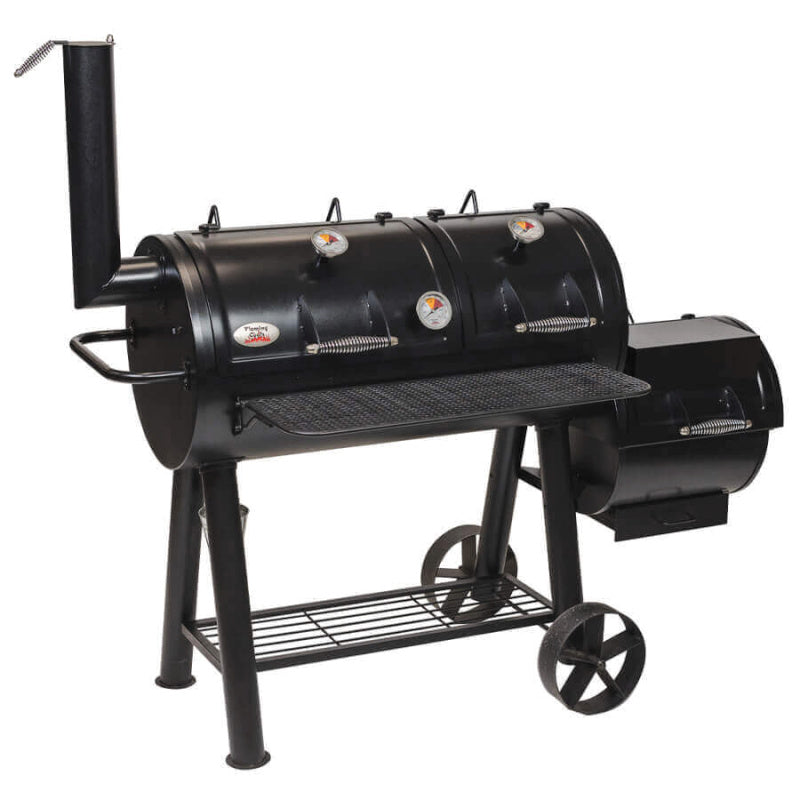 BBQ Offset Smoker and Grill | 1690 mm
Description

Why buy From Us

Shipping
The Texas-Style Offset BBQ Smoker: Master the Art of Smoky Flavor
Features:
Fold-out preparation shelf making it even easier to prepare and wrap your food

Use with wood splits or charcoal and even 

Heat beads

Large 100mm diameter chimney with adjustable damper and cool touch damper handle

3x Firebox vents for more precise temperature control

Heat management baffle plates to disburse the heat more evenly

3mm and 4mm steel construction for greater heat retention

Heat-resistant paint for long-lasting protection

Solid lid handles with stay-cool springs so you don't burn your hands

Wood storage shelf for easy fuel access

Slide-out ashtray for easy cleaning

Strong tube legs and steel wheels allowing you to drag this 130kg around your yard

Adhesive heat sealing tape to seal the doors and minimise smoke and heat loss

3 adjustable temperature gauges for accurate temperature monitoring

5mm thick stainless steel cooking grills for long-lasting quality

2 temperature probe holes with a latch to close the holes if necessary

Warming shelf on the firebox to heat your glazes and keep your food warm
Dimensions:
Firebox: 48cm x 44cm 

Cooking Chamber: 104cm  x 50cm 

Total length (including handles) 169cm
Savor the Texas-Style BBQ Magic Right in Your Own Home
Transform your backyard into a true BBQ haven with this top-notch offset smoker, built for the passionate BBQ lovers and competition teams throughout Australia. This smoker marries precision-based temperature control, superior-grade materials, and outstanding functionality to conjure the mouthwatering, smoke-kissed flavours that will dazzle your loved ones.
Key Highlights of this Offset Smoker
Masterful Temperature Control
Equipped with three firebox vents, this BBQ offset smoker grants you the ability to adjust the cooking temperature effortlessly. This guarantees the ideal low and slow cook for your meats every time.
The 100mm diameter chimney ensures consistent smoke distribution throughout the cook chamber, deeply infusing your food with the tantalizing, smoky taste you love.
The convenient slide-out ash tray simplifies clean-up, freeing you to concentrate on the real deal – crafting flavorful smoked delicacies.
Customizable Baffle Plates
This smoker includes four adjustable baffle plates, allowing you to manage the temperature variance in the smoke chamber. By adjusting the gaps between the baffle plates at 5mm, 10mm, 15mm, and 20mm (from right to left), you can maintain a steady temperature across the cook chamber for impeccably smoked meats every time.
Competition-Grade Performance
Adopted by BBQ competition teams across Australia, this Texas-style offset smoker is the hidden ace you need to level up your BBQ skills.
Ignite Your BBQ Passion with our Texas-Style Offset Smoker
Unearth your potential as a pitmaster with this Texas-style offset smoker and immerse yourself in the irresistible flavours of flawlessly smoked meats. Regardless if you're a seasoned BBQ veteran or an emerging pitmaster, this smoker delivers the ultimate smoking experience for your backyard gatherings, festivities, and competitions. So, why hold back? Elevate your smoking skill today with a BBQ Offset Smoker 
The Ultimate Offset Smoker and Grill FAQ Guide
Q: What is an offset smoker and grill?
An offset smoker and grill is a versatile outdoor cooking appliance designed for smoking and grilling food. It features a separate firebox (offset) from the cooking chamber, which allows you to cook using indirect heat for smoking and direct heat for grilling.
Q: How does an offset smoker work?
An offset smoker works by creating heat and smoke in the firebox, which is then channeled into the cooking chamber. The smoke and heat flow across the food, cooking it slowly and infusing it with a rich, smoky flavor before exiting through a chimney.
Q: What types of fuel can be used in an offset smoker and grill?
Offset smokers and grills can use various types of fuel, including charcoal, wood, or a combination of both. Each type of fuel contributes to the overall flavor profile of the food being cooked.
Q: Can I control the temperature in an offset smoker?
Yes, controlling the temperature in an offset smoker is possible by adjusting the intake and exhaust vents. Opening the vents will increase airflow and raise the temperature, while closing them will reduce airflow and lower the temperature.
Q: What is the ideal temperature for smoking in an offset smoker?
The ideal temperature for smoking in an offset smoker varies depending on the type of food being cooked. However, a general range is between 225°F and 250°F for most meats.
Q: Can I use an offset smoker for grilling as well?
Yes, an offset smoker can be used for grilling by cooking directly over the firebox. To grill, open the firebox lid and adjust the grates or add a grill grate to cook food directly over the heat source.
Q: How do I clean and maintain my offset smoker and grill?
Regular cleaning and maintenance are essential for your offset smoker and grill. After each use, remove ashes and any food debris from the cooking grates and firebox. Occasionally, clean the cooking chamber with a grill brush and warm soapy water. Also, ensure that the vents and chimney are free from grease and ash buildup.
Q: What are some common modifications to enhance the performance of an offset smoker?
Common modifications for offset smokers include adding heat baffles or tuning plates to distribute heat evenly, installing a better-quality thermometer, and sealing gaps to prevent heat and smoke leakage.
Q: Can I use a water pan in my offset smoker?
Yes, using a water pan in your offset smoker can help regulate temperature and add moisture to the cooking environment, resulting in more tender and juicy smoked foods.
Q: What are some tips for achieving the best results when using an offset smoker and grill?
To achieve the best results, preheat your smoker, maintain a consistent temperature, use quality fuel, avoid frequently opening the cooking chamber, and allow food to rest after cooking to redistribute juices and retain moisture.


Peace of mind 30 day returns policy! Find out more here.
Price match guarantee*. Get more details here.
Review Rewards Program! Check it out here.
We provide customer service, via online chat, email, and phone 7 days a week, 7am to 10 pm. Contact us anytime!
Shipping FREE on a range of items!
For bulky items we have multiple items to reduce shipping costs:
Shipping to door, calculated at the product, cart, and checkout pages.

Collect from local depots we ship to, for reduced costs.

Collect for FREE from warehouse where products are shipped from.
You can find all our delivery/shipping details here.
If you have any questions contact us anytime.