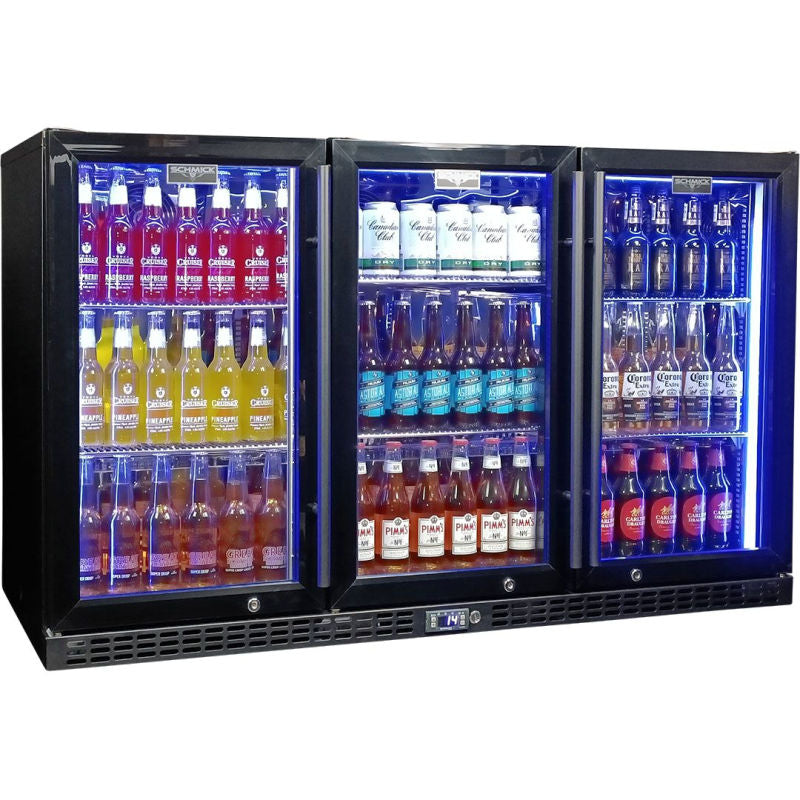 Bar Fridge | 3 Door | Quiet Running SK386
Description

Model Code

Why buy From Us

Shipping
Bar Fridge | 3 Door | Quiet Running SK386
The Ultimate Entertaining Companion
Indulge in a seamless blend of style, functionality, and efficiency with the Schmick Low Energy & Quiet Running 3 Door Bar Fridge. Designed to be your ultimate companion for gatherings, man caves, theater rooms, and hospitality venues, this fridge is a testament to superior craftsmanship and quality.
Enjoy FREE delivery in NSW, VIC, QLD (Gold Coast to Sunshine Coast), and the Adelaide region.
Triple Glazed Elegance: The sleek matte black finish, combined with triple-glazed LOW E glass doors, creates a striking visual impact while ensuring optimal insulation and energy efficiency.

Interior Sophistication: Step into luxury with a polished mirror stainless steel interior, exuding a premium aura that complements your upscale setting.

Vibrant LED Illumination: Choose between enchanting blue or crisp white LED lighting to set the mood and accentuate your beverages. The switchable option allows you to tailor the ambiance to your preference.

Quiet Elegance: Equipped with Schmick OWL Quiet Inner Fans and German EBM Fans, this unit operates at a serene 43.00dB, similar to the volume of a kitchen fridge.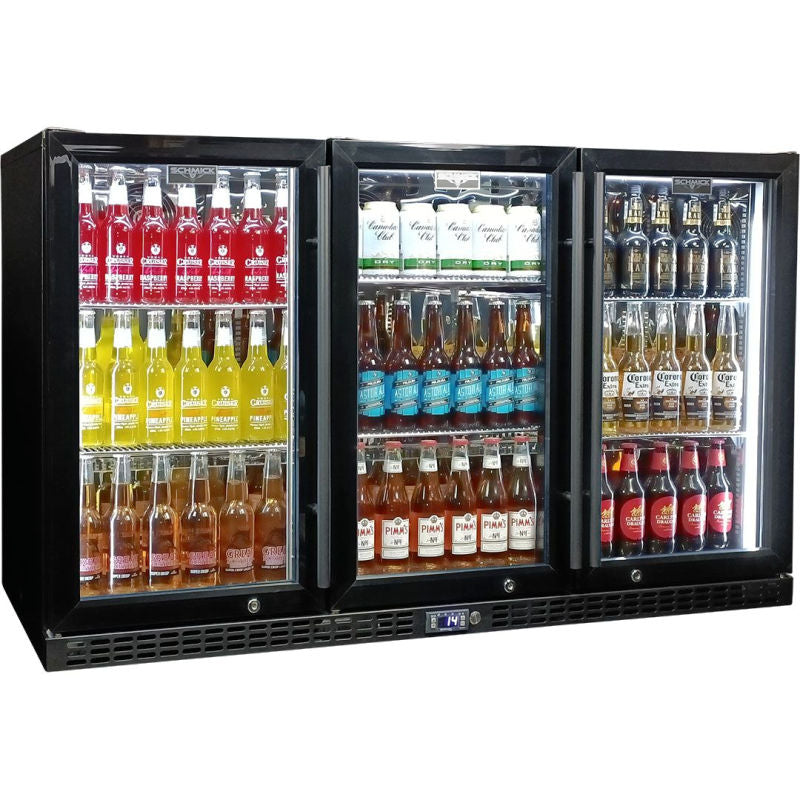 Bar Fridge | 3 Door | Quiet Running SK386 | Technical Highlights
Optimal Cooling: Experience rapid cooling to zero degrees Celsius even in scorching 38°C temperatures, making it ideal for both indoor and outdoor enclosed spaces.

Energy Efficiency at Its Finest: The Schmick ECO Controller, Cyclopentane foaming, R600 100% ozone-safe gas, and LED lighting combine to ensure a low-power consumption unit that's gentle on both the environment and your wallet.

Impeccable Build: Designed with quality brand parts, including an energy-saving EBM German EC Fan, Meanwell Transformer, and Jiaxipera Chinese Compressor, this fridge guarantees reliability and durability.

External: Width 1345mm, Depth 590mm, Height 840mm

Internal: Width 1265mm, Depth 440mm, Height 690mm

Capacity: Store up to 396 standard 375ml cans or 399 liters of refreshments.

Schmick's renowned excellence is encapsulated in the SK386-B, a testament to unmatched design and performance. Experience peace of mind with a brand that stands synonymous with quality.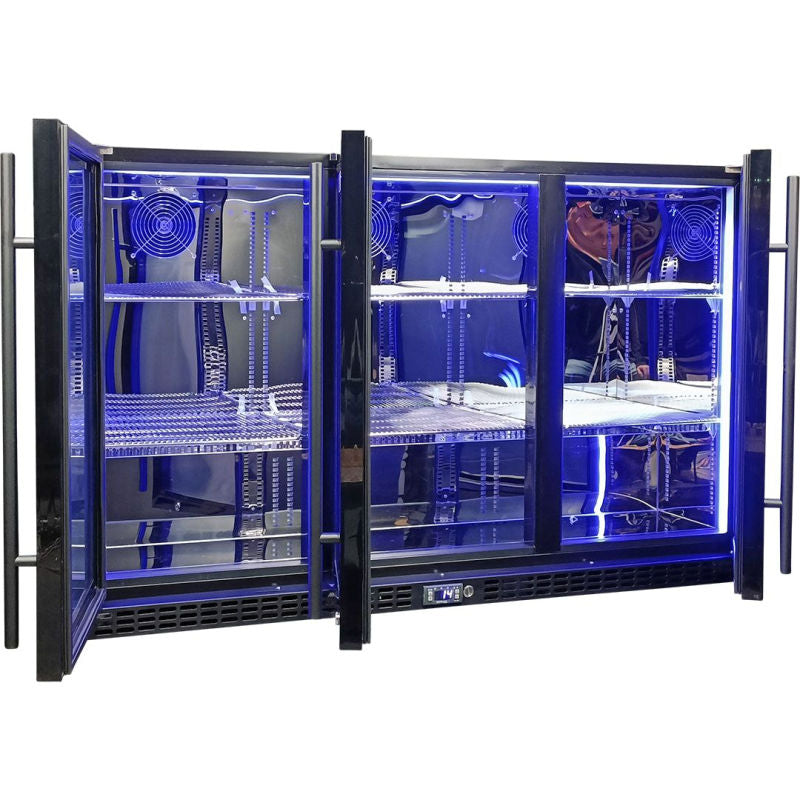 Bar Fridge | 3 Door | Quiet Running SK386 | Specifications
Litres: 399
Weight: 98kg
Dimensions: Width 1345 mm
Depth 590 mm
Height 840 mm
Capacity: 396 cans (375ml)
Noise Level: 43dB Similar to
a kitchen fridge
Shelving: 4 Shelves
Body Colour: Black
Interior Finish: Polished 304
Stainless Steel
Adjustable Feet: Yes
Lockable: Yes
Glass Door: Triple glazed
Low E Glass
Door Hinge: 1 x Right
2 x Left
Power Consumption: 1.70 kW/24hrs
Running Costs: Approximately
$159 per year
Approvals: GEMS 2022
Meps
SAA Electrical
EMC (C-Tick)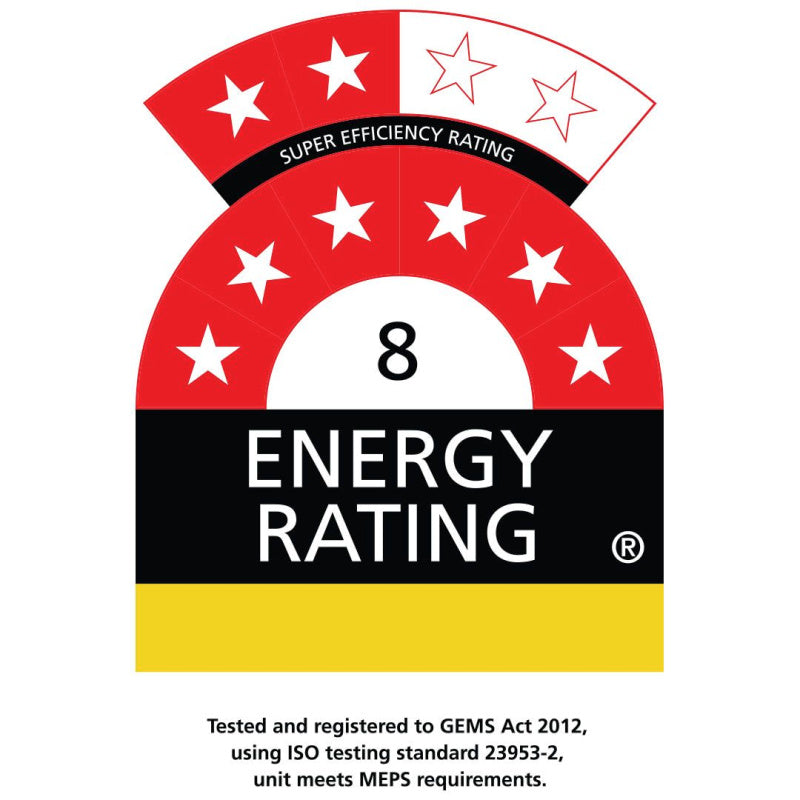 Bar Fridge | 3 Door | Quiet Running SK386 | Complete Guide
Dive deeper into the world of cooling sophistication with the Schmick Quiet Running Bar Fridge. Discover maintenance tips, performance insights. Explore the Complete guide here.
Peace of mind 30 day returns policy! Find out more here.
Price match guarantee*. Get more details here.
Review Rewards Program! Check it out here.
We provide customer service, via online chat, email, and phone 7 days a week, 7am to 10 pm. Contact us anytime!
Shipping FREE on a range of items!
For bulky items we have multiple items to reduce shipping costs:
Shipping to door, calculated at the product, cart, and checkout pages.

Collect from local depots we ship to, for reduced costs.

Collect for FREE from warehouse where products are shipped from.
You can find all our delivery/shipping details here.
If you have any questions contact us anytime.