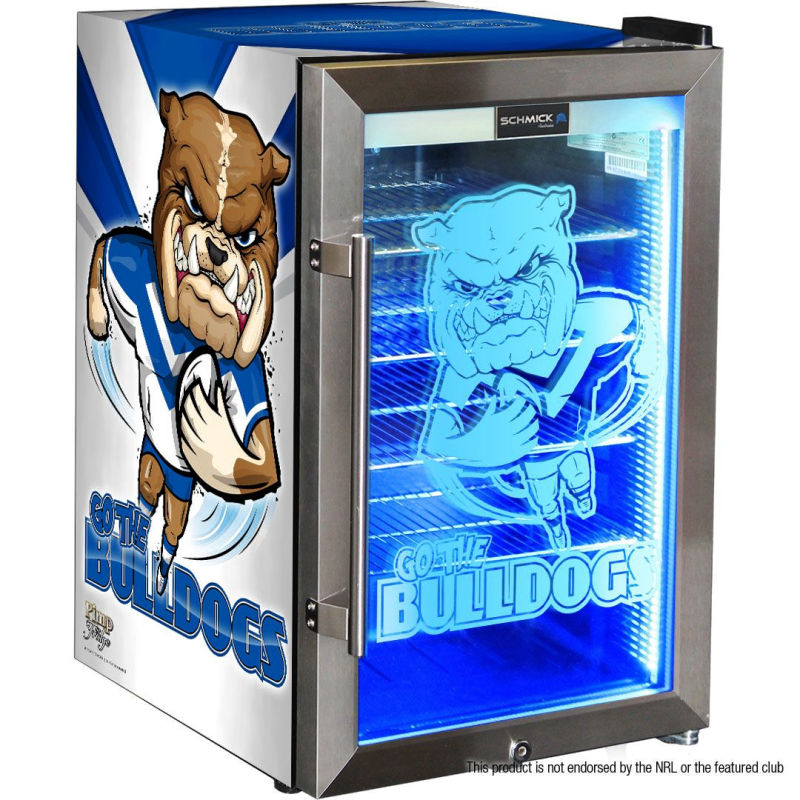 Bar Fridge | 70 Litre NRL Team Branded
Description

Model Codes

Why buy From Us

Shipping
Bar Fridge | 70 Litre NRL Team Branded
Introducing the Ultimate NRL Club Branded Glass Door Bar Fridge - A Brilliant Gift Idea!
Enjoy FREE delivery in NSW, VIC, QLD (Gold Coast to Sunshine Coast), and the Adelaide region.
Product Details
NRL-themed design with a unique light-up door, creating an eye-catching display.
Please note: Available in LEFT HINGED option only at the moment.
Capacity: Accommodates 85 Standard 375ml cans or 70 Litres of beverages.
Dimensions:
External: Width 430mm, Depth 500mm, Height 700mm;
Internal: Width 360mm, Depth 360mm, Height 595mm.
Stay Chilled with Triple Glazed Cooling:
Triple glazed LOW E glass and tropical rating ensure efficient cooling in temperatures ranging from 10°C to 38°C.
Perfect for indoor or outdoor use, provided it's placed under cover.
Energy-efficient with a power consumption of 1.60 kW/24hrs, saving you approximately $149.74 annually.
Operates at a noise level similar to a standard kitchen fridge (43.00dB).
Equipped with high-quality components like the Chinese Compressor, Bearing Fan, and Reliable Transformer.
Your Own NRL Team's Fridge:
Choose from 13 exciting rugby team designs, meticulously crafted by our in-house graphic artist.
Main Features to Savour:
Schmick's mini bar range boasts top-notch quality, ensuring sturdy and reliable products.

Self-closing lockable doors offer convenience and security.

Unique inner fan system provides even and stable cooling performance.

Versatile molded interior with adjustable height options to accommodate various drink configurations.
Eco-Friendly and Energy-Saving:
Environmentally conscious design with 12Volt Fans, Cyclopentane foaming, and R600 ozone-safe gas.
LED lighting enhances visibility while saving energy.
Triple glazed tempered LOW E glass ensures superior insulation.
Easy Placement and Quality Assurance:
Equipped with 2 adjustable feet for easy leveling.
Lockable glass door with stainless steel finish for a secure and stylish look.
Black molded plastic interior with branded custom stickers adds a touch of sophistication.
Please Note:
The door opens approximately 5-10mm outside the fridge's diameter, and the inner step is 210mm in height and 200mm high.
This fridge is not suitable for kegs.
For a complete bar fridge guide on maintenance, tips and performance read here
HUS-SC70-SS-RUG-BULLDOGS
HUS-SC70-SS-RUG-COWBOYS
HUS-SC70-SS-RUG-DRAGONS
HUS-SC70-SS-RUG-EELS
HUS-SC70-SS-RUG-KNIGHTS
HUS-SC70-SS-RUG-PANTHERS
HUS-SC70-SS-RUG-RABBITOHS
HUS-SC70-SS-RUG-ROOSTERS
HUS-SC70-SS-RUG-EAGLES
HUS-SC70-SS-RUG-SHARKS
HUS-SC70-SS-RUG-STORM
HUS-SC70-SS-RUG-TIGERS
HUS-SC70-SS-RUG-WARRIORS
Peace of mind 30 day returns policy! Find out more here.
Price match guarantee*. Get more details here.
Review Rewards Program! Check it out here.
We provide customer service, via online chat, email, and phone 7 days a week, 7am to 10 pm. Contact us anytime!
Shipping FREE on a range of items!
For bulky items we have multiple items to reduce shipping costs:
Shipping to door, calculated at the product, cart, and checkout pages.

Collect from local depots we ship to, for reduced costs.

Collect for FREE from warehouse where products are shipped from.
You can find all our delivery/shipping details here.
If you have any questions contact us anytime.