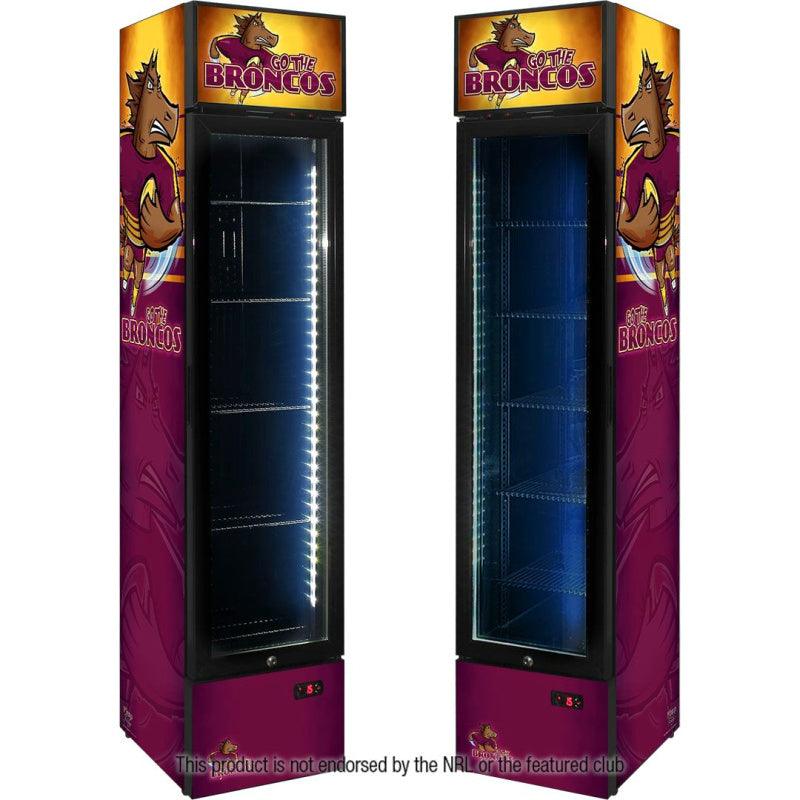 Bar Fridge | 160 Litre NRL Team Branded
Description

Model Codes

Why buy From Us

Shipping
Bar Fridge | 160 Litre NRL Team Branded
Enjoy FREE delivery in NSW, VIC, QLD (Gold Coast to Sunshine Coast), and the Adelaide region.
Discover the Ultimate Rugby Branded Glass Door Bar Fridge - Showcasing Your Team Spirit in Style!
Creating a branded masterpiece requires meticulous attention to detail and precision. We want to ensure that your branding is executed flawlessly. Please note that the  branding process can take up to two weeks.
Product Overview
Upright 160 litre Rugby Branded glass door bar fridge with plenty of shelf adjustments, triple glazed LOW E glass, lock, and brand name parts.
Choose from 14 cool team designs to represent your passion for the game.
Technical Details
Powerful cooling capability, maintaining zero (0°C) temperature even in hot conditions above 32°C.
Suitable for both indoor and outdoor use, providing versatile placement options.
Energy-efficient with a power consumption of 2.10 kW/24hrs, resulting in approximately $196.53 yearly running cost.
Noise level similar to a standard kitchen fridge, operating at 43.00dB.
Equipped with high-quality components, including Carel Controller (Italy), EBM Fans, and Transformer from Taiwan.
Sturdy construction, weighing 60.00 kg.
Assurance
Our esteemed flagship brand, Schmick, represents excellence in design and performance, ensuring top-tier quality.
Holds SAA Electrical and EMC (C-Tick) approvals for added reassurance.
Key Features:
Triple glazed LOW E glass effectively prevents condensation, maintaining clarity and visibility.
German EBM brand fans offer a quiet, low-noise, and energy-efficient cooling experience.
Fully adjustable shelves and lockable door provide customizable storage options.
Quality compressor and Italian Carel controller ensure reliable and efficient cooling performance.
4 x adjustable feet for easy leveling and stability.
Personalise the lightbox with your own name for a unique and thoughtful gift option.
Eco-Friendly Attributes
Utilises Cyclopentane foaming for enhanced insulation and energy efficiency.
Features LED lighting for brilliant visibility with reduced power consumption.
Utilizes R600 gas, 100% ozone safe, for an eco-friendly cooling solution.
Electronic Controller and Energy-saving compressor optimize energy usage.
German energy-saving EBM fans contribute to reduced power consumption.
Triple glazed tempered LOW E glass for superior thermal insulation.
Product Insights
Easily adjustable feet (4 adjustable feet) for stable positioning.
Lockable glass door with triple glazed tempered LOW E glass, ensuring security and visibility.
Right Hinge (Handle Left) door orientation.
5 x Shelves with dimensions W: 294 mm x D: 325mm, providing ample space for beverages.
Sleek black body color with a black door/grill finish and a stylish Smashed Aluminum interior finish.
Capacity:
Holds Standard 375ml cans: 144
Provides a capacity of 160 Litres.
Dimensions:
External: Width 390mm, Depth 475mm, Height 1880mm
Elevate your NRL fan experience with our NRL Branded Glass Door Bar Fridge. Choose your team design and proudly display your passion for the sport. Perfect for indoor or outdoor use, this fridge offers both functionality and style. Get yours now and embrace the spirit of the NRL!
For a complete bar fridge guide on maintenance, tips and performance read here
SS-P160FA-RUG-BRONCOS

SS-P160FA-RUG-BULLDOGS

SS-P160FA-RUG-COWBOYS

SS-P160FA-RUG-DRAGONS

SS-P160FA-RUG-EELS

SS-P160FA-RUG-KNIGHTS

SS-P160FA-RUG-PANTHERS

SS-P160FA-RUG-RABBITOHS

SS-P160FA-RUG-ROOSTERS

SS-P160FA-RUG-EAGLES

SS-P160FA-RUG-SHARKS

SS-P160FA-RUG-STORM

SS-P160FA-RUG-TIGERS

SS-P160FA-RUG-WARRIORS
Peace of mind 30 day returns policy! Find out more here.
Price match guarantee*. Get more details here.
Review Rewards Program! Check it out here.
We provide customer service, via online chat, email, and phone 7 days a week, 7am to 10 pm. Contact us anytime!
Shipping FREE on a range of items!
For bulky items we have multiple items to reduce shipping costs:
Shipping to door, calculated at the product, cart, and checkout pages.

Collect from local depots we ship to, for reduced costs.

Collect for FREE from warehouse where products are shipped from.
You can find all our delivery/shipping details here.
If you have any questions contact us anytime.