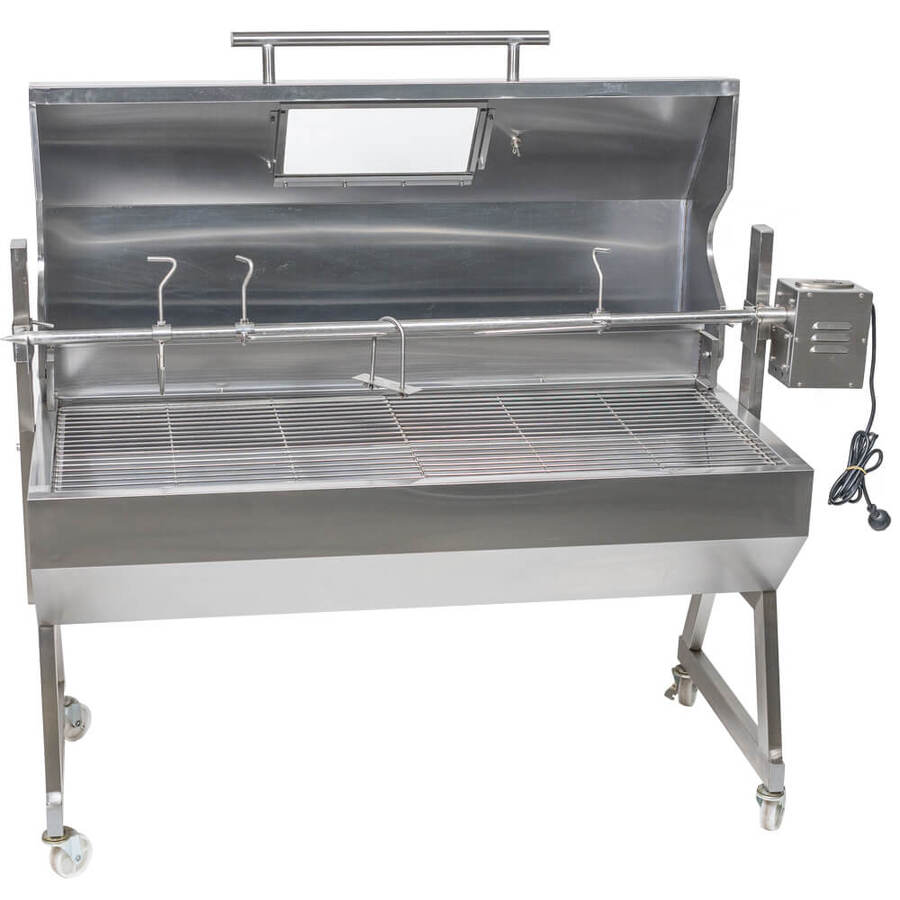 1200 mm Hooded Spit Rotisserie Roaster for Hire
Days in red are unavailable
Description

Conditions of Hire
1200 mm Spartan Spit Rotisserie Roaster For Hire Overview
Welcome to the Australian designed 1200 mm spit rotisserie roaster with hood. This strongly built, sturdy spit is made from 201 stainless steel. All accessories and surfaces that touch food are 304 food grade stainless steel. We clean and sterilise the spit after use and before it is delivered.
Days in RED in the calendar at the top of the page indicate if the item is unavailable. If the days are not in red, it is available. Simply choose any extras required and provide an email and phone number at checkout and we will contact you to book in the days. 
Please note we only have ONE 1200 mm available for Hire.
When you hire this spit you can expect:
Delivery and pick up from your location
Free set up and pack up
All accessories including optional extras (such as a basket)
The first three days at the cost of 1 day
Optional charcoal firestarter chimney, Australian Gidgee charcoal and fire starters.
Unlike other spit hires, ours comes with a hood so you can keep cooking in unruly weather conditions
We also offer a clean up option for $30. We will remove the ash and clean the spit
How Much Charcoal is Needed
As a rule of thumb you require 1 kg of charcoal per kg of meat being cooked. Half of this is initially heated and added to the pan. The remaining half is added over the duration of the cook.
Charcoal provides a wonderful smoky flavour and is highly recommended over heat beads. If you do use heat beads, make sure they are heated away from the meat and added later (due to the chemicals added to heat beads - you want to burn it in for a while)
Free Set Up | Pack Up and Demonstration
Included for free, we will set up the spit in the chosen location and pack it away. We also provide a demonstration and answer any questions relating to the operation of the spit.
Spit Rotisserie Accessories Included
The spit comes with the following: 2 Large Prongs | 1 Back Brace | 1 Leg Bracket | 1 Skewer | 2 Grills for Cooking Area | Temperature Gauge | Removable Charcoal Pan
Optional Charcoal Firestarter Chimney
For an additional cost we supply local Gidgee lump charcoal (not imported), the charcoal firestarter chimney to prep the charcoal, and firestarter to get the charcoal heated.
1200 mm Spartan Spit Rotisserie Roaster For Hire
Specifications and Dimensions
Fuel Type Charcoal
Heat Beads
Wood Fire
Height Adjustable Spit Yes
Motor Rated to 60 kg
Length 1220 mm
Length with Spit 1370 mm
Width 580 mm
Closed Height 1000 mm
Weight 51 kg
Materials 304 Stainless Steel Food Grade
Body is 201 Stainless Steel
We are a local family owned business. We will go out of our way to provide all the information you need to get the maximum use and enjoyment out of all the equipment we hire. We will:
Deliver and collect the equipment
Set up and pack away
Give a demonstration
Provide any tips and answer any questions regarding any aspect of use of the equipment to the best of our knowledge.
Clean the unit offsite and remove ash etc, if you choose the cleaning extra option when booking.
We want you to have an easy, simple, and enjoyable experience that brings your event to life and provides long lasting memories. We are extremely understanding and will work with people in case of unforseen circumstances.
We have a generic contract (Agreement For Hire Of Plant And Equipment) that everyone must sign and agree to when we drop the equipment off. It has a simple shedule that fully outlines the equipment, it's intended use, any any other vital information. You can find an example of that in the following link below. We will also email this out as a blank form when you hire the equipment so you are well aware. This form is for legal reasons.